I came across the below list showing the top 30 stocks in the S&P 500 index in terms of annual returns over the past 30 years from May 1991 thru May 2021. The best stock during this time period was Netflix(NFLX) with an annualized return of over 38%. Though it is interesting to review this list and marvel at the astonishing wealth that could have been built, it is not that easy to say the least. For one thing, this chart does not show all the trials and tribulations and investors have had to go thru during these years where some of these stocks plunged dramatically. From Netflix to Amazon(AMZN) to Apple(AAPL) and a few other tech stocks in this list fell 50% or more during the period and then recovered. Not many investors may have had the courage and patience to wait out such losses.
Click to enlarge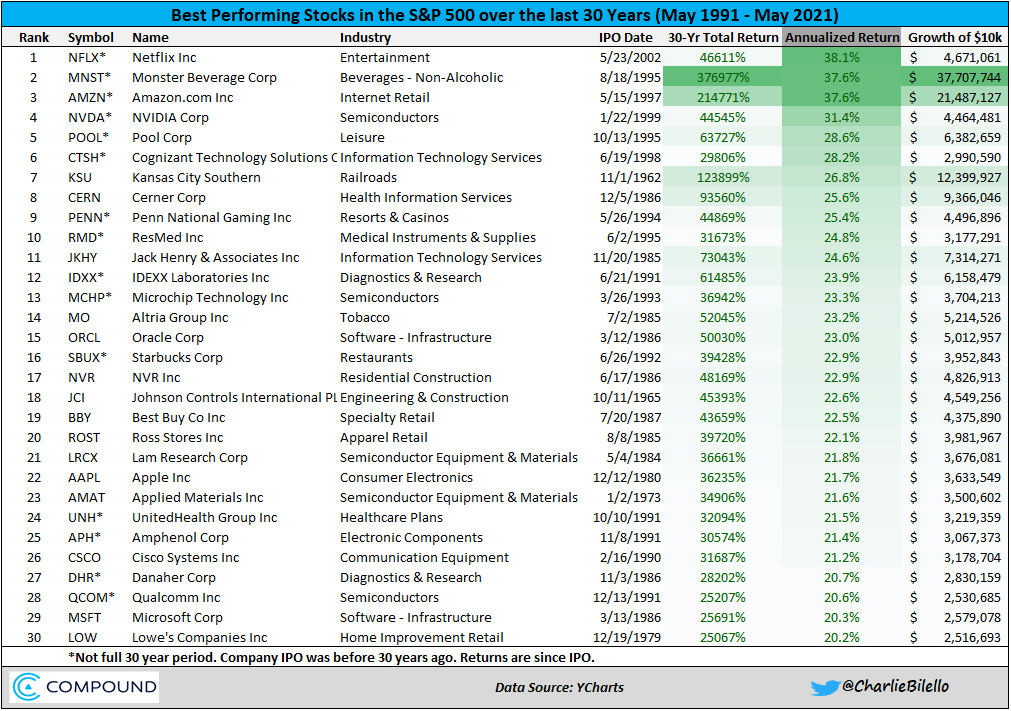 Source: The Ultimate Superpower in Investing by Charlie Bilello, Compound Advisors
It should noted that all the tech stocks listed above benefitted from the dot com boom and the semiconductor stocks got a boost in recent years due to the pandemic, chip shortage, crypto craze, etc. It is unlikely these combination of events would emerge again in the future.
Similarly one-hit wonders such as Monster Beverage(MNST) are an anomaly. A few years ago when energy drinks turned into a fad the company's stock skyrocketed.
Disclosure: No positions