Amazon(AMZN) is the world's largest e-commerce company with a market capitalization of over $1.40 Trillion. The stock price has jumped from under $500 in 2017 to a recent 52-week of $2,955. While Amazon dominates the US market it is not a major player in many other countries. In this quick post, lets take a look at two competitors: Sea Ltd (SE) and Mercadolibre Inc(MELI).
Sea Ltd(SE):
Singapore-based Sea Ltd is the largest internet-based retailer in South East Asia. Below is a brief profile of the firm:
Sea Limited is an Internet platform provider. The Company has developed an integrated platform consisting of digital entertainment, e-commerce, and digital financial services. The Company operates three businesses Garena, Shopee, and SeaMoney. The Company's digital entertainment business, Garena, is a global game developer and publisher with a presence in Southeast Asia, Taiwan and Latin America. Garena provides access to mobile and personal computer online games. Shopee provides users with a shopping environment that is supported by integrated payment, logistics, fulfillment, and other value-added services. SeaMoney business is a digital financial services provider. SeaMoney offers e-wallet services, payment processing, credit related digital financial offerings, and other financial products.
NYSE-listed SE reached a 52-week high of $119.23 on July 2nd.Currently it has market cap of over $49.0 billion.
1-Year return of Sea Ltd:
Click to enlarge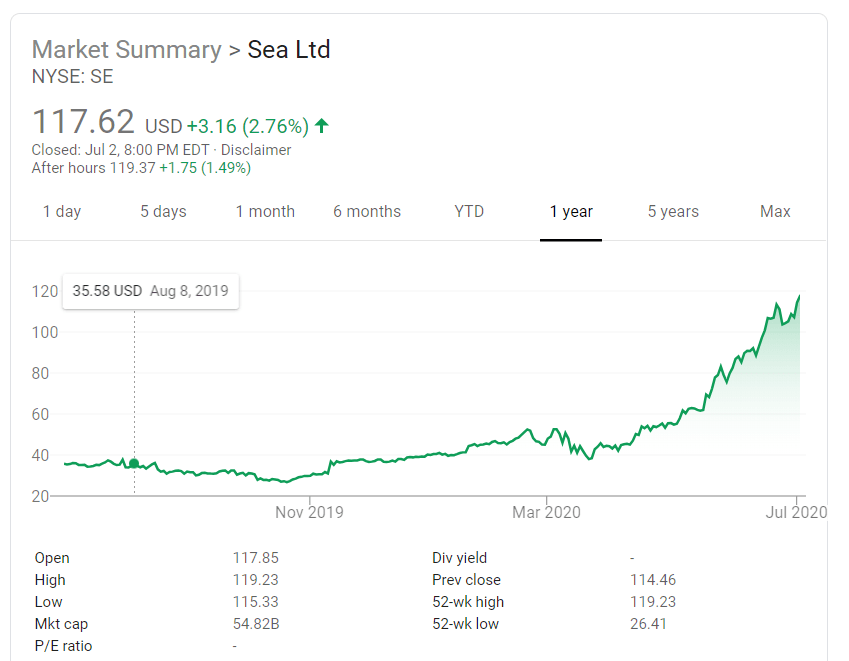 Source: Google Finance
Mercadolibre Inc(MELI):
Argentina-based MELI is the largest e-commerce retailer in Latin America easily beating Amazon. NASDAQ-listed MELI is a highly volatile stock. Similar to SE, MELI also has a market of around $48 billion. A brief profile:
MercadoLibre, Inc. is an e-commerce company. The Company enables commerce through its marketplace platform in Latin America, which is designed to provide users with a portfolio of services to facilitate commercial transactions. Its geographic segments are Brazil, Argentina, Mexico Venezuela and Other Countries (which includes Chile, Colombia, Costa Rica, Dominican Republic, Ecuador, Panama, Peru, Portugal, Guatemala, Bolivia, Paraguay, Uruguay and the United States of America). It also operates online commerce platforms in the Dominican Republic, Honduras, Nicaragua, Salvador, Panama, Bolivia, Guatemala, Paraguay and Portugal. It offers an ecosystem of six integrated e-commerce services: the MercadoLibre Marketplace, the MercadoLibre Classifieds Service, the MercadoPago payments solution, the MercadoLibre advertising program, the MercadoShops online Webstores solution and the MercadoEnvios shipping service.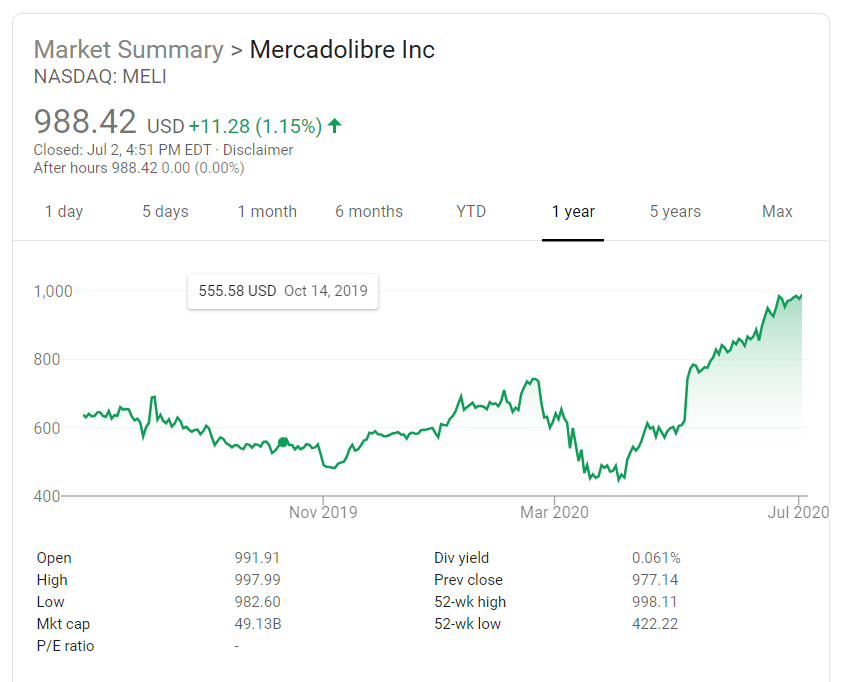 Source: Google Finance
Performance of AMZN, MELI and SE over the past 2 years: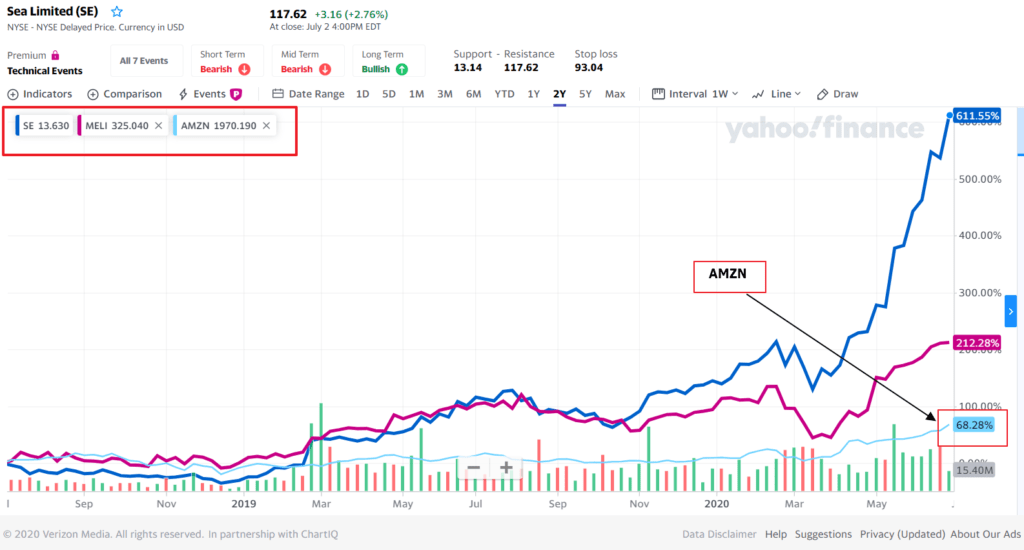 Source: Yahoo Finance
Investors looking at gain exposure to the fast growing e-commerce sector abroad can consider MELI and SE. However the prices have soared already and it is wise wait for pullbacks.
Disclosure: No Positions