Europe is a fertile ground for income seeking investors. Relative to US firms. European firms generally tend to have higher dividend payouts. However when picking European dividend stocks it is important to be aware of the concentration risk as more than 50% of the total dividends is paid out firms in just 3 sectors. These sectors are Financials, Energy and Consumer Staples as shown in the chart below:
Click to Enlarge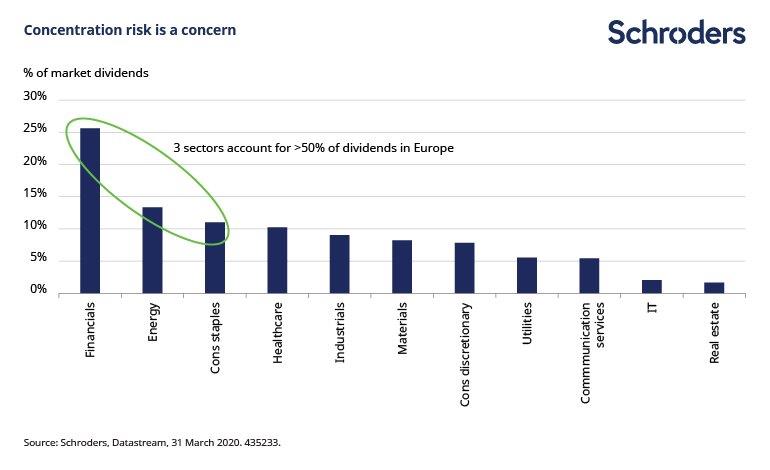 Source: Yield hunting in an uncertain world, Schroders
As the Coronavirus started ravaging Europe back in March major European banks suspended their final dividend payments for 2019 and the interim dividend for this year. Similarly in the energy world, Royal Dutch Shell (RDS-A, RDS-B) cut its dividend payment for the first time since World War II. This shows the risk that even seemingly great companies can take extreme measures to preserve cash. European banks have struggled for years since the Great Financial Crisis (GFC) to regain their former glory but until so far have failed to do so. The current pandemic added some more salt to these already wounded banks.
The key takeaway is that diversification is the easiest way to reduce concentration risk. So when building a portfolio of dividend stocks its important to spread out the assets among various sectors, companies, countries and regions.
Disclosure: No Positions