The automotive industry is going through a rough period in the past few months. German automakers are struggling to innovate and compete with electric auto startups. This is on top of the diesel cheating scam that plagued Volkswagen and others. In the US auto sales are holding up. More recently the auto industry in China has been hit by the Corona virus with sales plunging and factories closed. Much of the attention and investor money has been flooding into story stocks like Tesla(TSLA) in the past year or so. However there are many alternatives in the auto and auto part sector if you know where to look. For instance, few weeks ago Adient PLC(ADNT), the world's auto seat maker shot up over 40% after a strong earnings report.
Similarly there are many other stocks that are selling at attractively levels currently. Investors looking to add stocks in the sector can consider Swedish auto part supplier Autoliv (ALV) for value and Veoneer(VNE) for growth. Veoneer was spun off from Autoliv back in 2018.
Autoliv currently trades for about $71 and the 52-week low is about $16. VNE goes for $14+ and the 52-week low is about $13.
Below is a brief overview of Autoliv & Veoneer:
Autoliv:
Autoliv, Inc. is a supplier of automotive safety systems with a range of product offerings, including passive safety systems and active safety systems. The Company operates through its Passive Safety segment. The Passive safety products include modules and components for passenger and driver-side airbags, side-impact airbag protection systems, seatbelts, steering wheels, inflator technologies, whiplash protection systems and child seats, and components for such systems, as well as passive safety electronic products, such as restraint electronics and crash sensors. The Active safety products include camera-based vision systems, night driving assist, automotive radars, brake controls, positioning systems, electronic control units, and other active safety systems. As of December 31, 2016, including joint venture operations, the Company had approximately 78 production facilities in 25 countries, consisting of both component factories and assembly factories.
Veoneer:
Veoneer, Inc. is a designing, developing, selling and manufacturing of automotive safety electronic products. The Company is offering products and system solutions in three product areas: active safety, restraint control systems and brake systems. Its brake systems product area consists of ANBS. In addition, within its active safety product area the Company provides ADAS and AD software solutions for vehicle decision and control through its Zenuity joint venture. The Company operates in two segments Electronics and Brake Systems. The Electronics reporting segment consists of active safety and restraint control systems product areas. The Brake Systems reporting segment consists of brake systems product area, which are those products developed by Autoliv Nissin Brake Systems joint venture.
An excerpt from a 2018 article at Investment Europe:
A tale of two styles: Autoliv
The recent story of one stock illustrates the polarity between growth and value. The Swedish firm Autoliv recently split at the start of July 2018 to create two publicly traded companies, one focused on safety equipment such as airbags (Autoliv) with value characteristics – and one focused on innovative electronics including radar products and advanced driverless assistance systems (Veoneer), which has a growth bias.

While Autoliv is a cash cow passive safety business, loss-making Veoneer has attracted huge flows from growth investors looking to play future automotive trends and the promise of rising earnings.
Source: How to profit from a return of European value, Investment Europe
5-Year chart of Autoliv: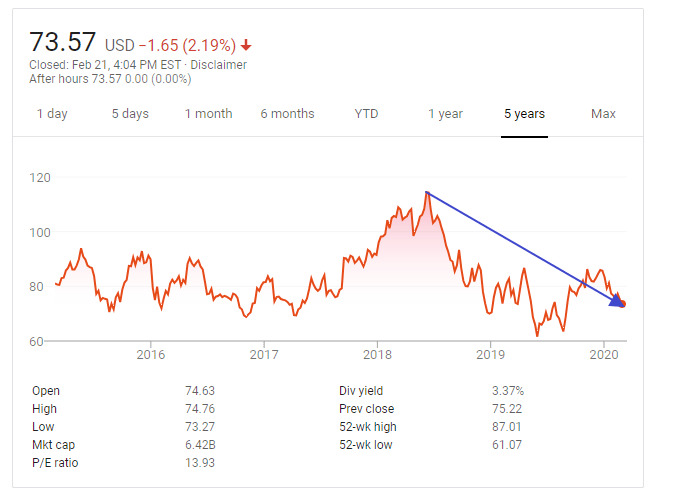 Long-term chart of Veoneer: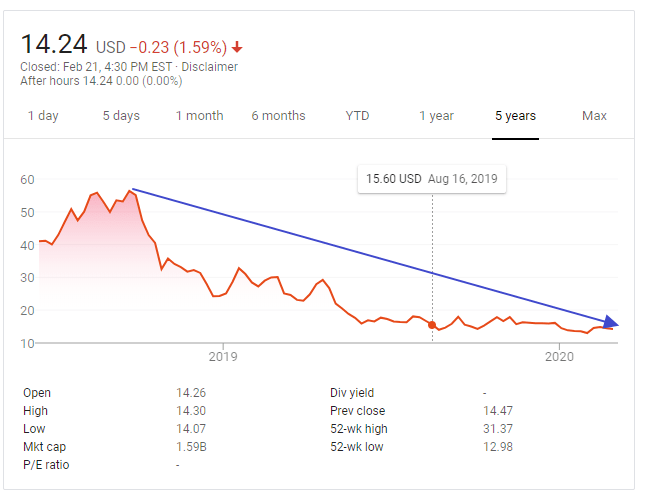 Source: Google Finance
Global investors are highly attracted to growth stocks in the electric and self-driving vehicles sector. It is not just Tesla that is the only player in this field. As Veoneer has a strong presence in this field, institutional investors are also accumulating large number of its shares. Here is a short brief from a recent article:
California Public Employees Retirement System grew its stake in Veoneer Inc (NYSE:VNE) by 14.3% in the 4th quarter, according to its most recent disclosure with the Securities & Exchange Commission. The firm owned 240,200 shares of the company's stock after buying an additional 30,000 shares during the quarter. California Public Employees Retirement System owned 0.22% of Veoneer worth $3,752,000 at the end of the most recent reporting period.
Source: California Public Employees Retirement System Has $3.75 Million Holdings in Veoneer Inc (NYSE:VNE), Enterprise Echo, Feb 18, 2020
Disclosure: Long ALV and VNE