Dividend yields of equity markets vary across countries significantly. The following chart shows the latest dividend yields for select countries as of December, 2019.
Russia has the highest dividend yield in the world at 6.23% while India has the lowest rate at just 1.19%. Many of key companies in Russia such as those in oil and gas, banking industries are owned by the state and the state encourages them to payout a high portion of their profits as dividends, India is traditionally not known for its dividend culture. Global investors primarily invest there for growth. Among emerging countries, Brazil is also not a big dividend payer. Countries such as Malaysia, Colombia and Chile offer much higher yields than India and others. So those countries are better for income investors.
Among the developed countries, the US has the lowest yield at 1.83%. The yield on the S&P 500 has stayed under 2% for many years if not decades. This is because US firms invest most of their retained earnings in R&D, capital expenditures and others that are geared towards growing the company. Very few firms are interested in sharing most of the profits with shareholders in the form of dividends. Even if they want to payout more than the average yields they prefer stock buybacks as opposed to cash dividends. This is due to a major quirk in the Federal tax  code in that taxes on dividends are charged at the ordinary income tax rates which is high while the tax on capital gains is low. So some if not all investors also are content with this strategy followed by American companies.
Australia is known as one of the top countries for dividends. Dividends are high there due to the concept of franking. Moreover Aussie firms do not have much opportunity for growth and historically have preferred to share the wealth with equity holders in cash dividends.
Click to enlarge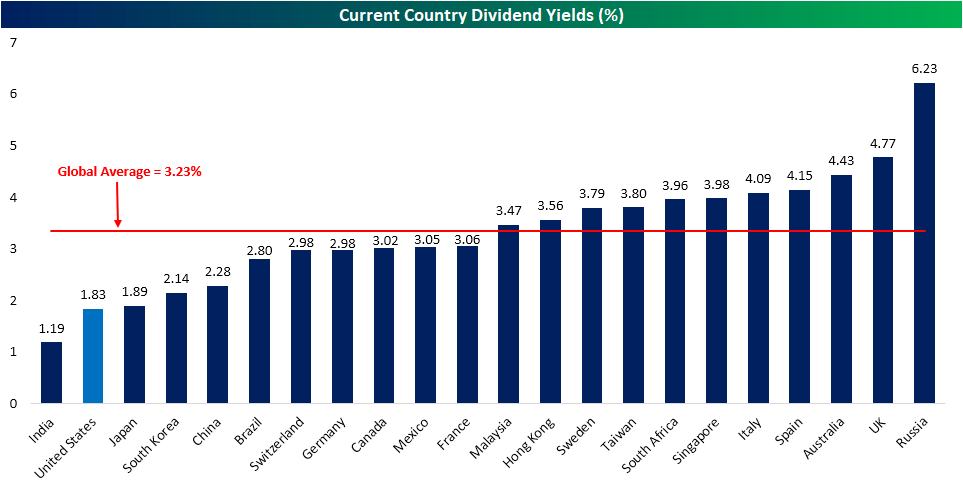 Source: Bespoke
Below are few examples showing the big difference in dividend yields between firms in different countries:
1) US & UK – Utility Sector:
Company: National Grid PLC (NGG)
Current Dividend Yield: 4.97%
Country: UK
Company: Consolidated Edison Inc. (ED)
Current Dividend Yield: 3.34%
Country: US
2)US & Australia – Banking:
Company: Wells Fargo & Company (WFC)
Current Dividend Yield: 2.68%
Country: US
Company: Westpac Banking Corp (WBK)
Current Dividend Yield: 7.11%
Country: Australia
3)India & Chile – Banking:
Company: HDFC Bank Ltd (HDB)
Current Dividend Yield: 0.70%
Country: India
Company: Banco Santander-Chile (BSAC)
Current Dividend Yield: 4.82%
Country: Chile
Note: Dividend yields noted above are as of Jan 3, 2020. Data is known to be accurate from sources used.Please use your own due diligence before making any investment decisions.
Key Takeaway: Country selection is key when looking to invest in foreign countries for income. This is especially important in emerging countries. Non-US developed countries are better for income investors although the net yields received could be lower due to dividend withholding taxes, foreign exchange rate fluctuations and other factors.
Disclosure: Long WBK