Many of the major equity markets are in the negative territory year-to-date. The S&P 500 is down by 4.77% based on price alone. But more than half the stocks in the index are down by more than 20% according to a recent MarketWatch article. Similarly half of global stocks are represented in the MSCI World Index are also in a bear market noted a Socgen research report. Investors with cash deploy have definitely plenty of opportunities in the current market.
From an article at Money Observer quoting the Socgen report:
As the chart below from Societe Generale shows, 52% of companies included in the MSCI are now down by over 20% since their 52-week high. Essentially, half the companies on the index are now in a bear market. (Figures taken from a Societe Generale paper published on 10 December 2018.)

The 52% of companies in bear market territory do represent a smaller part of the overall index – in total they account for just 38% of the market cap of the MSCI World Index.

But that doesn't mean that the broader index has performed well over the past year. As Societe Generale points out, the MSCI World Index is 12.6% down from its late January peak. At the same time, the index's year-to-date total return is -4.9%, compared to its five-year annualised positive return of 5.7%.
Source: Chart that tells a story: half of global stocks are in a bear market, Money Observer
Below is an excerpt from the Marketwatch piece:
Even after the recent pain in the stock market, the S&P 500 Index is down only 3% in 2018 (excluding dividends). That's not so bad when you consider the benchmark index rose 19% in 2017.

Still, more than half of the stocks in the index are in bear-market territory, showing how broad the decline has been.

A correction is typically defined as a 10% drop for a stock or an index from a recent peak, while a bear market is a 20%-plus decrease. Data supplied by FactSet show that 264 (53%) of S&P 500 SPX, +0.01%  companies are in bear markets.
Source: More than half of S&P 500 stocks are now in a bear market, Marketwatch
The following chart shows that all the 15 biggest companies by market cap in the S&P 500 are in a bear market:
Click to enlarge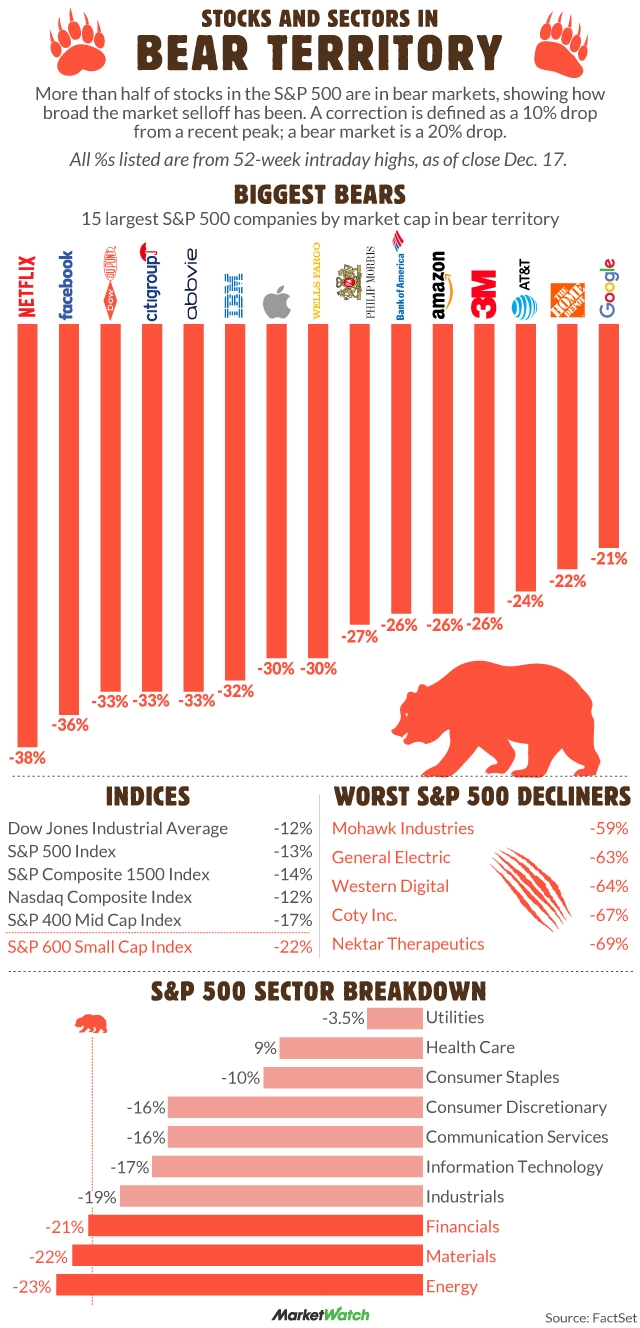 Source: All the biggest stocks that are now in a bear market, in one chart, Marketwatch
Disclosure: No positions