Oil prices are in a downward spiral in recent weeks. Yesterday Brent fell 7.1% for January delivery and closed at $65.47 yesterday. Just a few weeks ago pundits were predicting oil may reach over $100 a barrel soon. Since then prices have dramatically plunged.
The reasons attributed to the collapse in prices are many. Some of them are:
Supply is still high.
Global Demand may decline.
US inventories are rising.
The Iran sanctions and the reduction in supply does not have a huge impact on supply as feared. This is because some countries won exemptions and will be allowed to import Iranian oil. One of the countries included in this is Greece since the basket case in Europe is home to shipping giants.
Trump wants lower prices so that Americans can save at the pump and feel good to spend on other things. His tweets alone scare oil producers especially Saudi Arabia and the OPEC.
The weekend meeting where Saudi Arabia and Russia were expected to make big announcements ended up being a dud.
As readers of this blog may remember, oil is one of the most volatile commodities in the world. It is the most traded after foreign currency trading. Nobody knows where prices are going and why. There is always some reason that can tied to the rise or decline in prices regardless of how far the relationship is.For instance, a small pipeline explosion in places like Nigeria or Colombia have caused price spikes in the past.
Though prices are falling now, oil firms are here to stay. So the integrated oil and gas companies are well worth a look now and they deserve a place in a diversified long-term portfolio. Short-term price movements should not affect long-term investments in oil and gas stocks. With that said, investors looking to research the top oil and gas stocks, can consider the firms that made it to the popular Platts 250 rankings published each year.
The Top 20 Global Integrated Oil and Gas Companies 2018 in the Platts Top 250 are shown in the table below:
Click to enlarge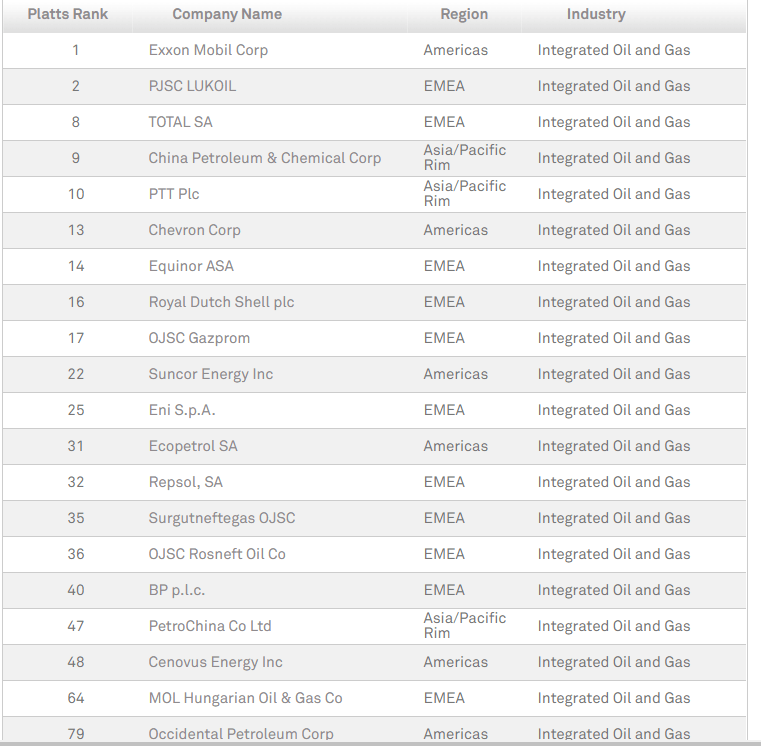 Note: The Platts Rank in column #1 is the rank of the company in the Top 250 list.
Source: Platts 250 Companies
Some of the firms from the above list that trade on the US markets include Exxon Mobil Corp (XOM)
, Total SA (TOT), Chevron Corp (CVX), Eni SpA (E), Ecopetrol SA (EC), etc.
Disclosure: Long EC