Equity markets have always overcome crises of all shapes and sizes. The long-term return of stocks as measured in decades is positive. There are always fears and crises for investors to worry about. For example, in the recent past we have the Global Financial Crisis(GFC), the Ebola virus scare, Italian debt crisis, multiple Greek sovereign debt crises, sky high crude oil prices, recessions, euro debt crises, SARS virus panic, Brexit, oil price crash, etc. The list is endless.
There is never a year where the world was quiet and peaceful and there was nothing to worry about. Despite the multitude of crises stocks have generally grown higher over the years. This phenomenon is true in the Australian equity market also. An article by Dr.Shane Oliver at AMP Capital discussed the importance of focusing on the long-term returns and ignoring short-term noises.
Australian shares have climbed a wall of worry since the 1900 and have returned an average of 11.8% per year.
Click to enlarge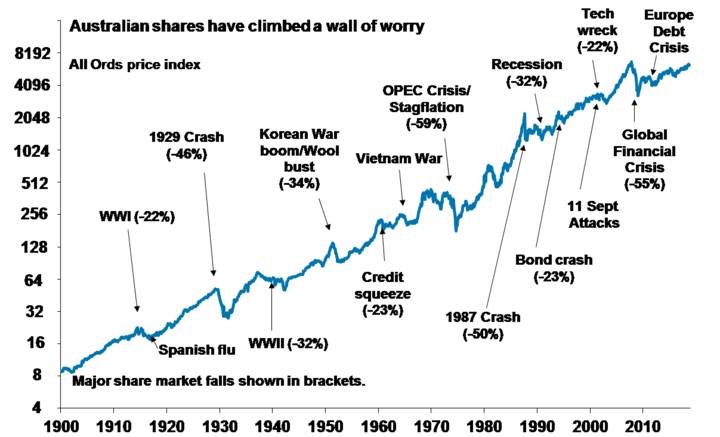 Source: Successful investing despite 115 million worries and Truth Decay – how to turn down the noise, Dr Shane Oliver, AMP Capital
Relative to Australian equity returns, US stocks have returned 9.8% per year during the same time period.
Related ETF:
Related Post:
Disclosure: No Positions
__________________________________________________________________________________________________
Checkout also:
__________________________________________________________________________________________________