The Aerospace and Defense sector is one of the hottest sectors in the US equity market. Stocks in this sector have rewarded investors with stable and consistent growth in the past few years. A basket of stocks in the S&P index for this sector has outperformed the S&P in terms of total returns (capital returns+dividend returns) from 2009 thru May 2018 as shown in the chart below:
Click to enlarge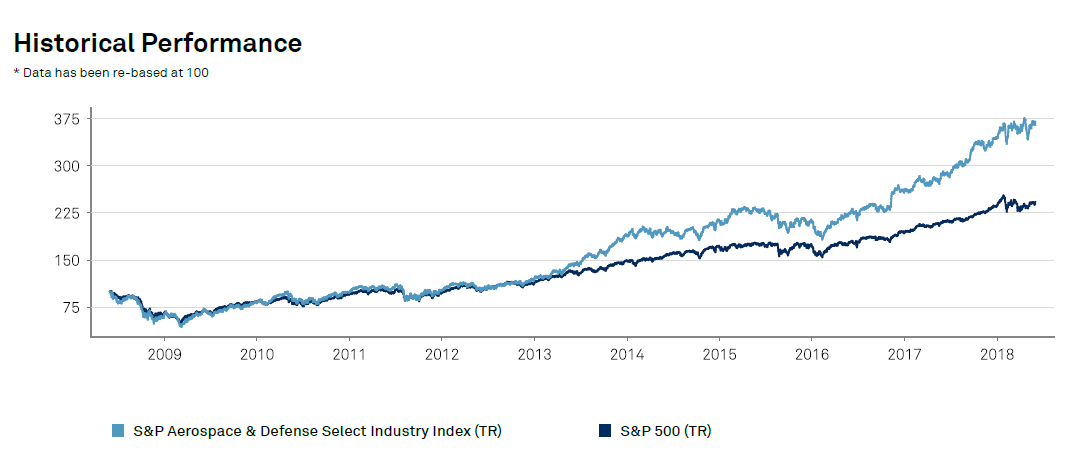 Source: S&P Indices
In the past 10 years the annualized returns for the index is an excellent 13.85%. The 5-year annualized return is even better at 21%.
It is not possible to directly invest in an index. So how can an investor gain exposure to the Aerospace and Defense sector?
A simple and easy way to own stocks in the sector is via an ETF such as the SPDR® S&P® Aerospace & Defense ETF(XAR). This ETF aims to track the performance of the underlying S&P sector index. With total holdings of 35 companies the fund has a market cap of over $24 billion and an expense ratio of 0.35%.
Why are defense stocks an attractive investment for the long-term?
Some of the reasons that make the defense sector attractive for long-term investment are listed below:
As the world's only super-power the US needs plenty of weapons and related resources to maintain the edge over other countries including the perennial enemy Russia.
Similar to consumer staples sector in the civilian world, defense and aerospace is a staple sector for the state. Billions of dollars allocated each year in the budget have to find a place somewhere and defense manufacturers are the top beneficiaries of the allocations.
Due to ongoing military and war operations and to defend against future threats, defense companies always have a solid backlog of projects to execute.
Unlike other countries, profit margins in the sector are extremely high due to the technology involved in the production of various defense systems.
The US is one of the top global exporter of weapons. Increasing demand for sophisticated weapon systems from allies tend to keep American arms makers in growth mode.
Some of the companies operating in the sector include:
Download Docs:
Disclosure: No Positions