The MSCI Emerging Markets Index is the most popular index that tracks the performance of emerging market equities. The composition of the index has changed dramatically over the years.
The following chart shows the composition of the index by country weights at inception in 1988 vs. the composition in March, 2018:
Click to enlarge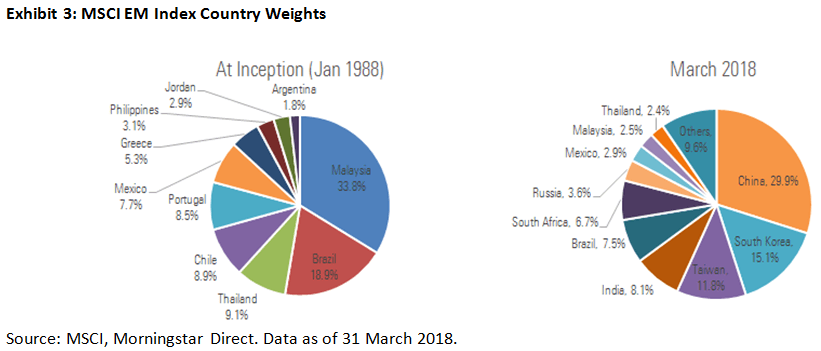 Source: The Evolution of The Chinese Equity Market (Part 1), MorningStar Malaysia
When MSCI created the index in January 1988, China was not included in the index. Finally when it was added to the index September 1996, China accounted for a tiny 0.46% of the total. China has steadily growth since then and as of March the weightage has soared to nearly 30%. In addition while Malaysia was the largest constituent at inception, today China is top constituent.
China's weight in the index has increased so much that it is higher than the weights of the next three countries of South Korea, Taiwan and India.
Related ETFs:
Disclosure: No Positions