Listed companies can implement reverse stock splits for many reasons. For example, they can consolidate the number of stocks outstanding in order to bring the stock price above a certain point like $1 after the price falls below that level. This is necessary for liquidity, preventing de-listing by exchanges, etc. Investors should be very careful of firms that do reverse stock splits especially if a the firm is losing money. Another factor that investors must be wary of is multiple reverse stock splits.
A recent article by Peter Hodson, CFA, is CEO of 5i Research Inc. in Financial Post discussed some of the lessons to learn from five losing stocks. One of them is the effect of stock consolidations. From the article:
DryShips (DRYS on NASDAQ)

First, the stunning fact. When adjusted for share consolidations over the years, shares of DryShips have gone from $1.515 million per share to $1.17 per share in 10 years. That is not a typo. That is a decline of 99.9999992 per cent. This year alone, the stock has declined 94.2 per cent. Of bizarre note, the company recently declared a dividend, after omitting them in 2008. The company operates dry bulk shipping carriers. In 2016, it lost $464.76 per share on $51.9 million in revenue. Market cap is $177 million and it still brings in buyers, with trading usually more than 30 million shares a day.

Lesson to be learned: Investors can't stand share consolidations, and losing money is not great for share prices (split-adjusted, DRYS lost $10,023 per share in 2015!).
Source: Five stocks that have burned investors, and the lessons we all can learn from them, Financial Post
DryShips(DRYS) did reverse stock splits 4 times in just two years (2016 and 2017). The splits were as follows:
| | |
| --- | --- |
| Date | Ratio |
| 03/11/2016 | 1 for 25 |
| 08/15/2016 | 1 for 4 |
| 11/01/2016 | 1 for 15 |
| 01/23/2017 | 1 for 8 |
The impact of these splits with the firm losing money was disastrous to investors. A $10,000 investment in March, 2007 in DRYS would have turned to just $0.05 on 3/22/17 with dividend reinvested.  So Total Return  equals to -100.00% according to split history website. This is indeed shocking.
Click to enlarge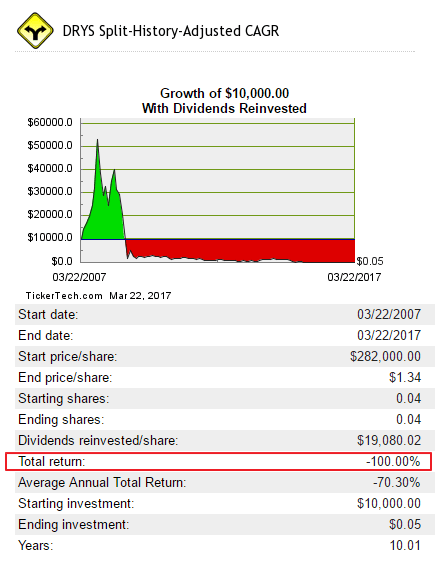 Source: Split History
DRYS closed at $1.34 yesterday.
Disclosure: No Positions
Update(April 7, 2017): 
DryShips announced yet another reverse split in the ratio of 1:4 today with an effective date of April 11. This is incredible. From a journal story:
DryShips, a Greek owner of dry bulk carriers and tankers, announced late Thursday that it will execute a reverse stock split effective April 11. Every four shares outstanding will be combined into one share of common stock.

DryShips stock plunged more than 25% Friday morning, possibly because its maneuver should sound familiar. This will mark the second reverse split of the year and the fifth time since February 2016.  Meanwhile, the latest reverse split comes less than a month after completing a $200 million share offering, in which the company raised net proceeds of $198 million.