Investing in the equity markets is not for the faint-hearted. Many questionable companies' stocks trade everyday on markets worldwide. One example of the extreme case of public company is NASDAQ-listed Greek shipping company DryShips Inc (DRYS). According to a post in FT Alphaville recently, the share price of DRYS has plunged from from $1.483 BILLION per Share from peak to just $1.40 per Share on Thursday. The figures are not a typo.
DRYS long-term chart: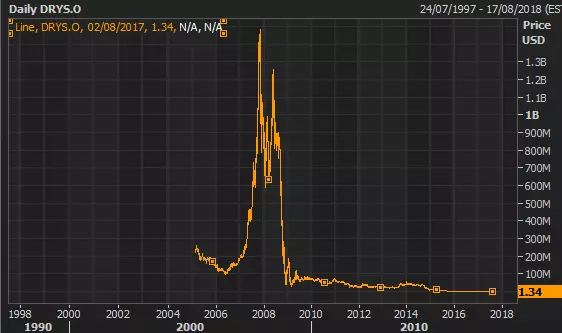 Source: Who buys DRYS? by Paul Murphy, FT Alphaville
In addition to the collapse in share prices, the company implemented multiple reverse stocks splits in recent years. The FT article notes that in the past four months reverse splits were done every month to get the stock price above $1.
Another example of a Greek shipping stock that has become practically worthless is Diana Containerships Inc. (DCIX).
Key Takeaways from this post:
Investors have to be really careful in choosing their stocks for their portfolios.
Despite regulations, some companies will find loopholes to defraud unsuspecting investors.
Scary stocks do not trade not just on emerging and frontier markets. Many trade on the developed markets as well.
Also see: Reverse Stock Splits Never Work Especially When A Company Is Losing Money, TFS
Disclosure: No Positions