UK-based tobacco giant British American Tobacco PLC(BTI) has announced a stock split in the ratio of 2:1 with a ADR Record Date of 02/06/17.  The ADR closed at $115.21 on Friday. Last year, competitor Imperial Brands PLC(IMBBY) had a 2 for 1 stock split.
5-year return chart:
Click to enlarge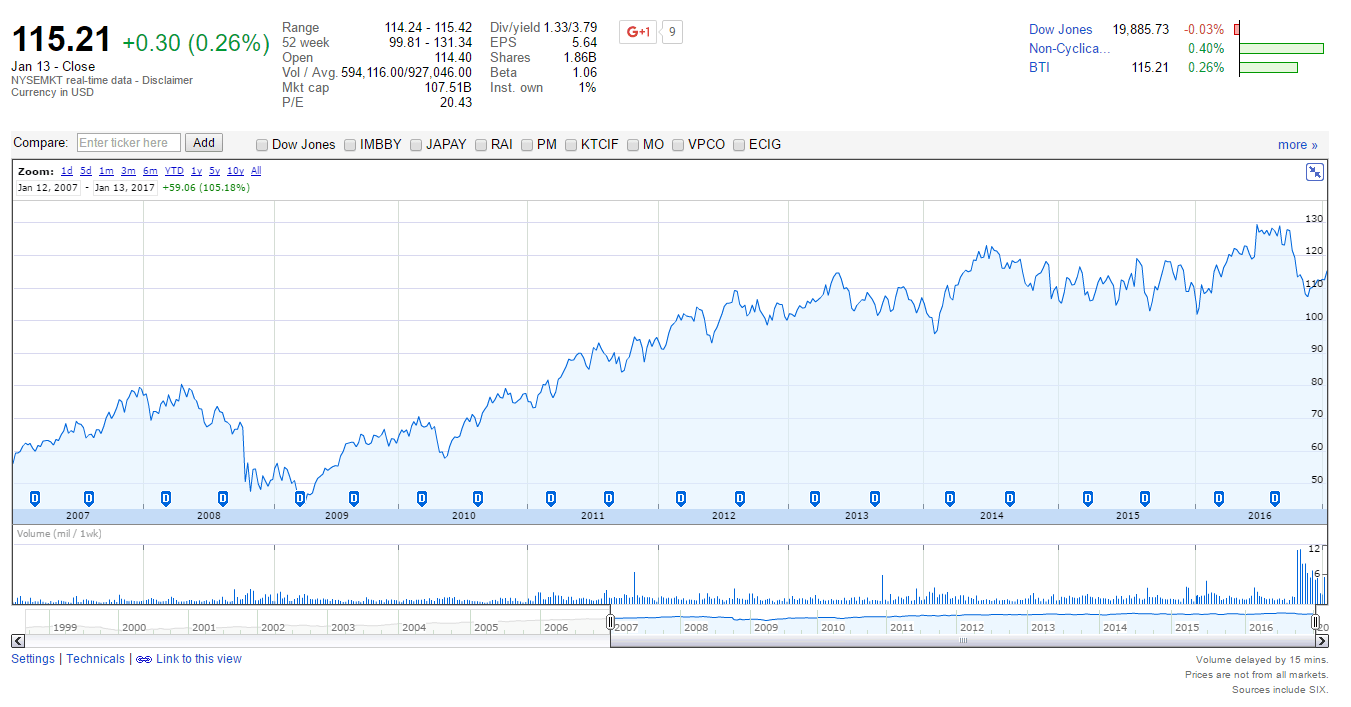 Source: Google Finance
As a sin sector stock, BTI has performed well over the past decade. It has more than doubled in the past 10 years in terms of price appreciation alone. Currently the stock has a juicy dividend yield of 3.79%. Since the UK has no dividend withholding taxes for US investors, this stock is a good pick to dig deeper for long-term income and growth investors.
Full Details of the stock split:
Ticker: BTI

Ratio (ORD:ADR): 2 : 1

Type of Distribution: Stock

ADR Record Date: 02/06/17

ADR Payable Date: 02/13/17

Stock Rate: 100%

British American Tobacco PLC has informed Citibank that it will change the ratio of its ADS from one (1) ADS representing two (2) ordinary shares to one (1) ADS representing one (1) ordinary share effective February 14, 2017. As a result of this ratio change, ADS holders will receive 1 additional ADS for every ADS held as of February 06, 2017.

The cusip will remain the same. No action on the part of Holders or Beneficial Owners is required.

Ratio Change Information:

Old Ratio: 2 Ordinary Shares : 1 ADS

New Ratio: 1 Ordinary Share : 1 ADS

The Effective Date for this ratio change is February 14, 2017
Source: Citi Depository Services
Disclosure: No Positions