U.S. firms hoard billions of cash and equivalents unable to deploy them for growth or distribute them with shareholders. Some of this cash is stashed abroad to avoid paying high US corporate taxes. In September I wrote an article listing the Top 25 Global Public Cash-Rich Companies. In this post let us take a quick look at US firms holding the most cash. More specifically these are large companies in the S&P 500 index.
According to an article by Andrew Birstingl of FactSet, all the firms in the S&P 500 index (excluding Financials) cash and cash equivalents balance amounted to $1.54 Trillion at the end of the third quarter, the largest cash total in 10 years.The top 20 companies by cash balance accounted for an astonishing 52.5% of the total cash balance of the index. So more than half of the $1.54 Trillion is held by just 20 companies.
Quarterly Cash and Short Term Investments of SP 500 Index:
Click to enlarge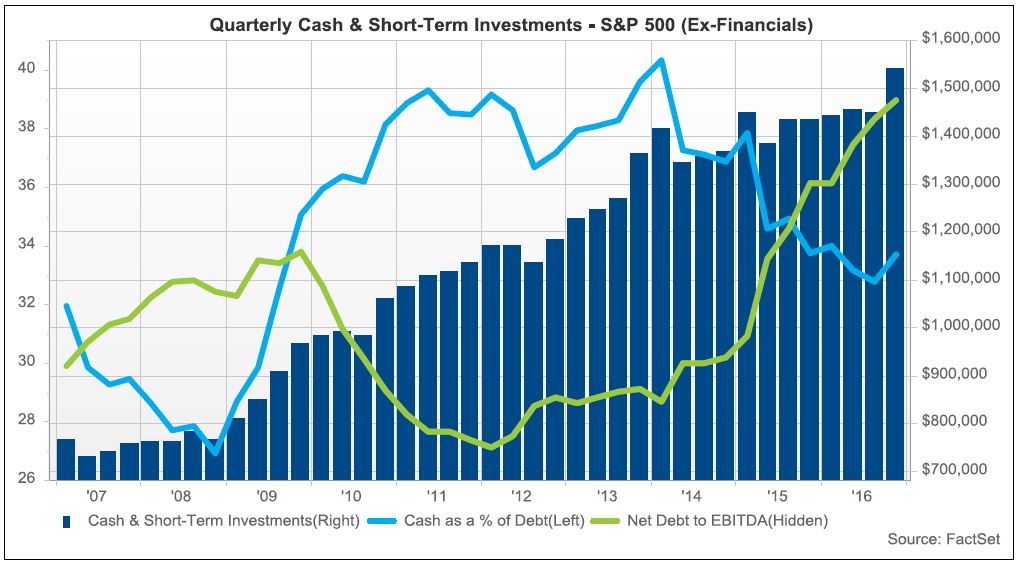 The Top 10 S&P 500 Companies By Cash and Cash Equivalents:

Source: Q3 Cash Balance Reaches New High, Grows 7.6% to $1.5 Trillion, FactSet, Dec 21, 2016
All the top five firms in the above list are in the hi-tech sector. These firms derive a high portion of their earnings from foreign countries and much of the cash is held overseas which may be repatriated if the corporate tax regime is changed. At the end of 3rd quarter Microsoft(MSFT) and Alphabet (GOOG) had a cash balance of $136.9 billion and $83.1 billion respectively. The other top IT firms in the list are Cisco(CSCO), Oracle(ORCL) and Apple(AAPL).
The healthcare firms in the list are drug maker Johnson & Johnson(JNJ), biotech companies Amgen(AMGN) and Allergan plc(AGN).
Disclosure: No Positions