The savings rate in Australia is much higher than the U.S. rate. In the U.S., the Personal Saving Rate stood at just 6.0% as of October, 2016. This rate is the same as the household savings rate in Australia.
Click to enlarge
U.S. Personal Saving Rate:

Source: Federal Reserve of St.Louis
In the 60s and 70s, the savings rate hovered over 10%. However since then Americans have been saving less and less each year as the country turned into a consumption-driven economy.
Australian Households' Savings Rate: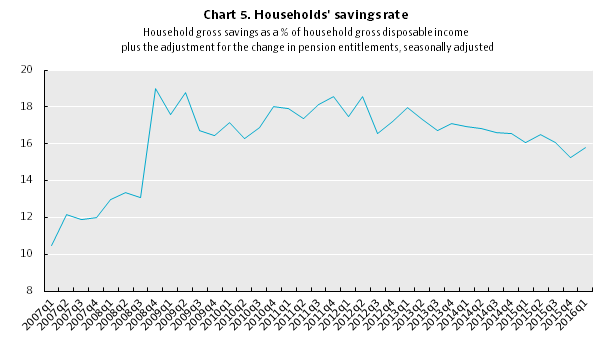 Source: A dash of data: Spotlight on Australian households, OECD Insights, OECD
The Australian Households' Savings Rate was 15.8% in Q1, 2016. The average rate is 16.2%. This is one of the highest among OECD nations. During the global financial crisis of 2008-09, the savings rate rose sharply to 19% according to the OECD.
So Australian households save nearly three times more than American households. This is indeed surprising since Australians have a much stronger safety net than Americans and hence they can afford to spend more than save. But cultural factors and decades of relentless marketing to consume material goods has forced us to spend for the present than save for the future. It is imperative that the US savings rate continues to rise and reach and stay above 10% like in the past. However currently most people have no incentive to save due to little or no interest earned on bank deposits.