The FTSE 100 is up just over 12% year-to-date. The index has outperformed the other major indices of developed Europe such as the CAC-40, DAX and IBEX. This is because the FTSE 100 is heavily concentrated with mining and oil and gas firms and the companies in the index are more dependent on foreign markets than the domestic market for revenues.
So from an investment perspective for 2017, which sectors of the British equity market are cheap now?
Before we get to the answers, lets review some of the key points on British stocks from an article published by Schroders:
In October, 2016 the FTSE reached a record high of 7,129.83. In February when markets worldwide were shaky the index dropped below 5,600.
Currently the dividend yield on the FTSE is about 4%. This is much higher than what investors can get with UK gilts(government bonds) and bank savings accounts. So investors looking for income and beat inflation which is around 1.2% can consider investing in stocks.
However the dividend cover – a measure of the ability of a company to pay dividends from cash generated – has declined dramatically since 2006. But a recovery in the British and global economy should improve companies' earnings leading to a rise in dividend cover.
The FTSE 100 currently has a P/E ratio of 16.8 compared with a long-term average of 14.9. So British stocks are not cheap. Based on the tangible book value though stocks look attractive. This figure stands at  3.43 compared to a historical average of 3.76.
Some sectors of the market looks cheap relative to historical ratios. The following table shows the cyclically adjusted price-to-earnings (CAPE) ratios of different sectors:
Click to enlarge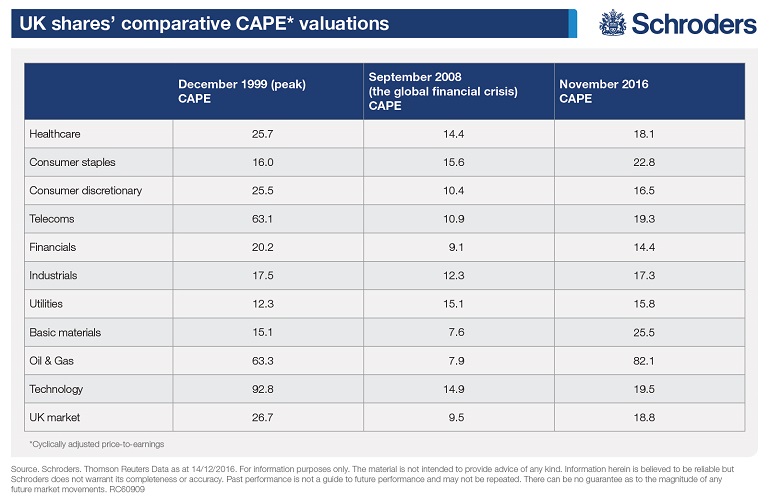 Source: What next for the FTSE 100? by David Brett, Schroders
Some of the British stocks trading on the NYSE that investors can consider for further research are: Vodafone Group PLC (VOD), British American Tobacco PLC (BTI), AstraZeneca PLC (AZN), Diageo PLC (DEO), National Grid PLC (NGG), BP PLC (BP) and Royal Dutch Shell PLC (RDS.A). Investors may want to avoid British banks now.
Also checkout:
Disclosure: No Positions