Stock market participation varies across countries. In some countries such as the US the participation rate is high while in others such as frontier countries the rate is very low.
Among developed countries, Germany has one of the lowest stock market participation rates. According to a recent article, just over 9 million of Germans owned stocks either directly or indirectly thru mutual funds. This figure is very low when we consider the population of the country which stands at over 81 million. In comparison, more than 50% of all Americans own stocks. Currently the US population is over 318 million. So that is about 159 million.
The graph below shows the total number of shareholders in Germany since 1988: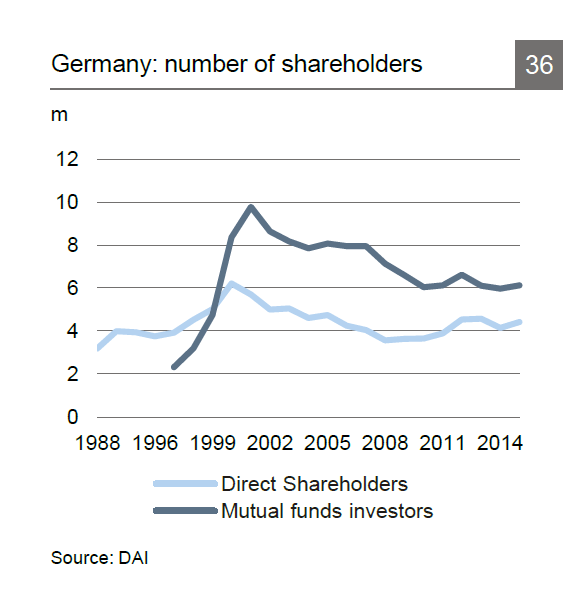 Source: Beacon of stability: The foundations of Germany's success, Deutsche Bank Research
Very few Germans invest in the stock market because they have a high aversion to risk. Americans on the other hand are extreme risk-takers. In addition to the high equity market participation rate, the high popularity and growth of casinos, lotteries, sports betting, bingo games, etc. confirm the risk-taking culture prevalent in the U.S.
From a recent article at DW:
The reasons for Germans' chronically low market participation are manifold, says Gerrit Fey, the director of capital market policy at DAI.

In addition to tax rules that could be seen as disincentivizing investing, historically, Germany has always had a more or less functional pension system.

"We are not taught that building our own fortunes will allow us to enjoy some extra income later in life," Fey told DW. "You have these ingrained behavioral patterns in Germany that show a large aversion to risk."

Some of the reluctance to buy equity also comes from memories of past stumbles that refuse to fade. In 2001, it was the bursting of the dot-com bubble; in 2003, the implosion of the Neuer Markt, a technology index on the German stock market styled after the NASDAQ.

There were also a number of high-profile IPOs that went awry. In 1996, for instance, the German government privatized Deutsche Telekom and had to raffle off shares because demand was so high. Many people saw Telekom as a sure-fire way to make some money – until the share price tanked and dragged Germans' confidence down with it.

The fact that the Telekom debacle still stings betrays another idiosyncrasy of Germans' trading habits. Generally speaking, Germans tend to have a shrewd sense of when to sell, Fey says. But their problem is not always knowing when to buy back in.
Source: Why are Germans afraid of the stock market?, DW
Takeaway:
Just because not many Germans trust stocks, does not mean foreign investors must be wary of German stocks. In fact, as the economic powerhouse of Europe, Germany is home to world-class firms and by investing in stocks investors have the opportunity to profit from their success. In certain sectors such as chemicals, engineering, automobiles, etc. German companies top other European countries and the world.
Also checkout: