Crude oil prices are on a roller-coaster ride this year.Brent Crude was down 1.76% and closed at $45.77 on Friday for November 2016 delivery. A year or two years it seemed prices would never fall under $100 per barrel and forecasters were even  predicting prices may reach $200. Now oil companies are desperately hoping prices to hit $60 and stay above that level.
According to an article by Shawn Driscoll at T.Rowe Price,  real oil prices are considered over $40/bbl (in 2014 dollars) are considered unusual when prices are looked at over the past century.
The real prices of oil over the past 150 years:
Click to enlarge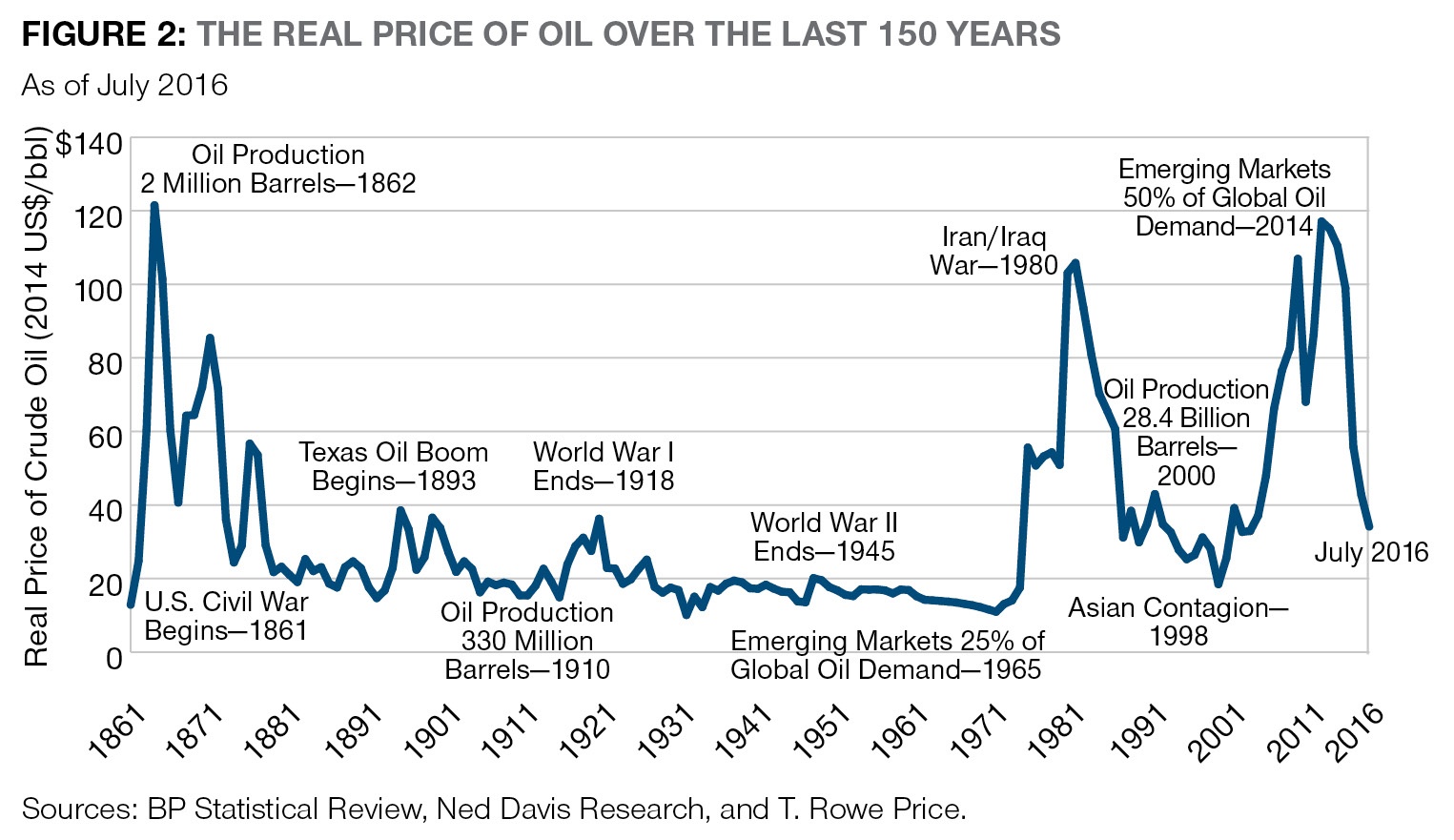 Source: Natural Resources – Uncovering Opportunity in a Secular Commodity Bear Market, Shawn Driscoll at T.Rowe Price
The recent peak reached in 2014 exceeded the levels during the Iran-Iraq War in 1980.
Investment perspective:
Obviously low oil prices are not favorable to oil companies. However the major firms are big enough to weather the downturn. In fact, many have sufficient cushion to pay dividends year after year. Even if profits should further hit, they can finance dividend payout by issuing more debt since rates are lower. So long-term investors can consider adding stocks in the oil and related industries at current prices in a phased manner. Due to the current volatility in the market, it is better to stay away from small and medium companies especially oil and natural exploration firms and producers.
The supermajors of the oil industry are Europe-based BP plc (BP), Royal Dutch Shell plc(RDS-A, RDS-B), Total SA(TOT) and Eni(E) and US-based ExxonMobil (XOM), Chevron (CVX) and ConocoPhillips (COP).
Disclosure: No Positions