Stocks that fall to depressed levels may take years to recover.Sometimes such companies may end up going bankrupt and equity becomes worthless. Though stocks may be depressed they may continue to trade and simply frustrate investors for years. Depressed levels can be considered as big declines of 50% or more.
The example below shows the charts of two such depressed companies – Commerzbank(CRZBY) and Deutsche Bank(DB) of Germany. They have plunged over 98% and 87% respectively over the past 10 years. These are two of the largest German banks. With seemingly no end in sight to all the issues facing these lenders investors are treating them as rotten fish.
Another point to remember is that just because stocks fall to 75% or more does not mean they are cheap and investors should invest in them. Former giant Commerzbank even had a 1 for 10 reverse stock split in 2013 in a vain attempt to reverse the continued stock slide. Today it closed at $6 and change.
Click to enlarge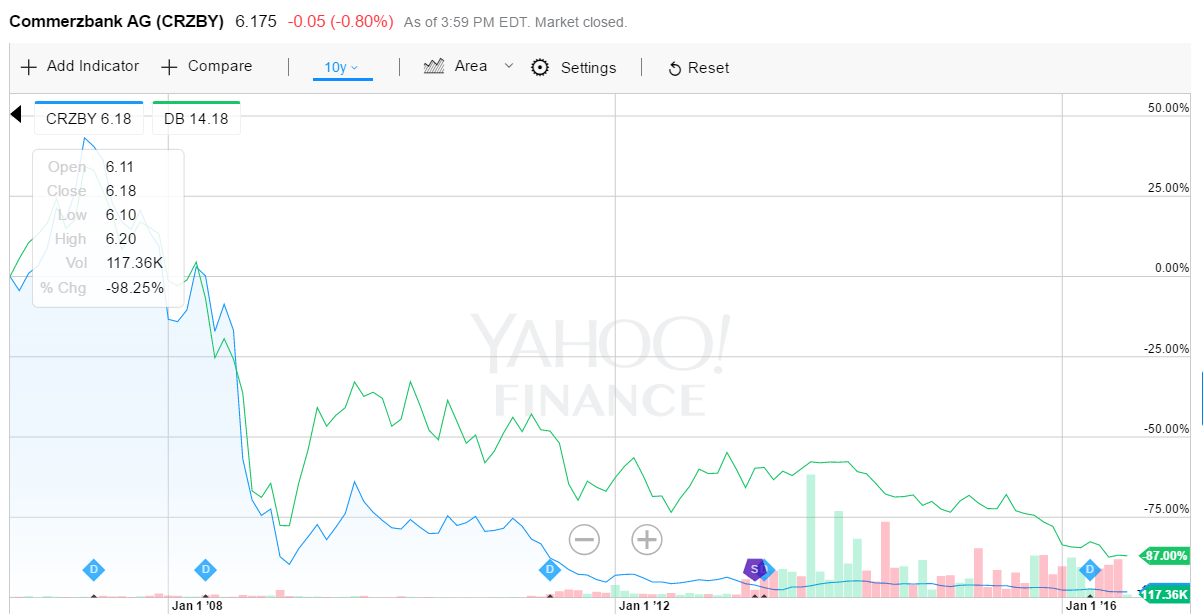 Source: Yahoo Finance
Other depressed stocks include Avon Products Inc.(AVP) down over 86% in 10 years, PDL BioPharma, Inc. (PDLI) off by over 82% in the past decade, Groupon (GRPN) down 77% since its IPO, etc.
Disclosure: No Positions