North America railroad stocks have declined substantially in the past year. As the volume of coal and oil shipped by rail continues to fall, railroads are adversely impacted. When crude oil was trading over at $100 per barrel, "oil by rail" was projected to be a huge opportunity for railroads when producers especially share oil producers shipped increasing amounts of oil by trains rather than by pipelines. However the plunge in oil prices has dampened the talk of the oil by rail story.Coal is another commodity that is hurting railroads. With lower oil prices and also lower natural gas prices, coal shipments have also declined.
Long-term investors with a time horizon of at least five years can consider adding railroad stocks to their portfolios in a phased manner. Currently railroads are trading at attractive levels compared to a year ago.
There are many advantages of owning railroad stocks. One of the main advantage is that the North American railroad industry is an oligopoly and only a handful of Class I railroads dominate the entire continent. The following is a pictorial representation of the oligopoly nature of the US railroads:
Click to enlarge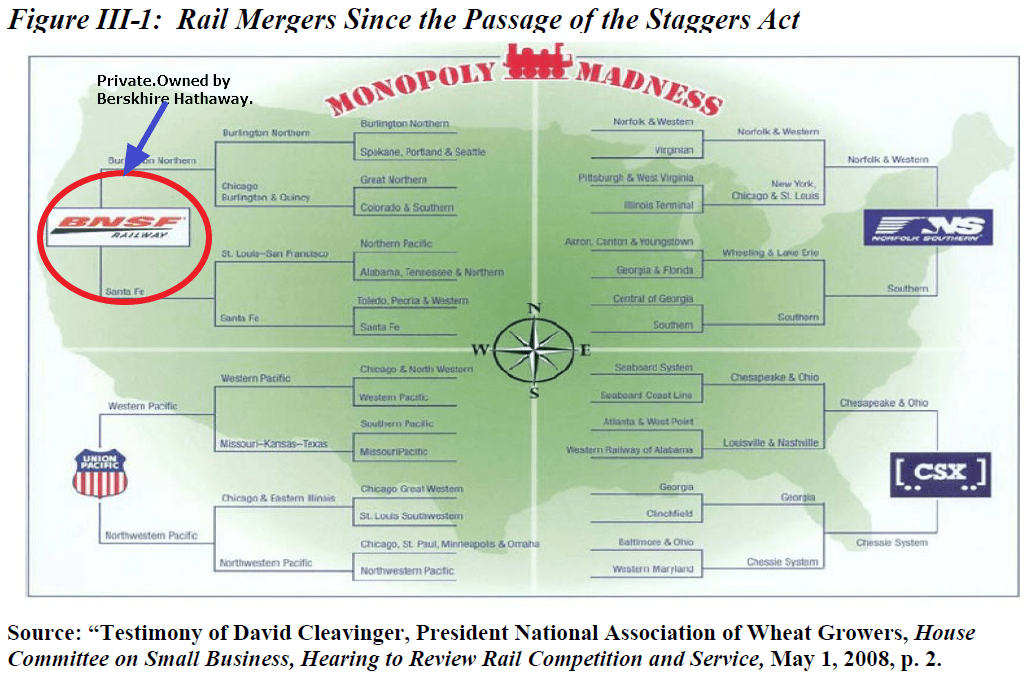 Source: Bulk Commodities and the Rails: Still Crazy after all these years, Dr. Mark Cooper, Consumer Federation of America
Oil and coal are just two of the many products that railroads transport across the continent. Many other commodities are best suited for transportation by railroads only as opposed to trucks or planes. For example, bulk products such as agricultural commodities are easier and cost-effective to ship by rail than trucks.
The five Class I US railroads are listed below with their current dividend yields:
1.BNSF Railway – Private. Owned by Warren Buffet's Berkshire Hathaway.
2. CSX Transportation (CSX)
Current Dividend Yield: 3.15%
3. Norfolk Southern Railway (NSC)
Current Dividend Yield: 3.36%
4. Kansas City Southern Railway (KSU)
Current Dividend Yield: 1.74%
5. Union Pacific Railroad (UNP)
Current Dividend Yield: 2.93%
The two Class I Canadian railroads are listed below with their current dividend yields:
1.Company: Canadian National Railway Co (CNI)
Current Dividend Yield: 1.68%
2.Company: Canadian Pacific Railway Ltd(CP)
Current Dividend Yield: 0.84%
Note: Dividend yields noted above are as of Feb 5, 2016. Data is known to be accurate from sources used.Please use your own due diligence before making any investment decisions.
Kansas City Southern operates in the central states and Mexico. Canadian National is the best run North American road and is a dividend grower. Recently the firm increased the quarterly dividend payments by 20%.
Similar to the US, Canada is dominated by just two railroads noted above. The huge country is split into two parts among the railroads with the western part covered by CP and the eastern part by CN.
Though railroad stocks have under-performed the market this year and may be volatile in the short-term, investors picking them up at current levels should earn a high total return provided they hold them for five years or even more.
Disclosure: Long CNI, CSX, NSC and UNP