The S&P 500 is down 8.0% year-to-date(YTD). However banking stocks have declined even more with the KBW Nasdaq Bank Index falling 13% YTD as shown in the chart below:
Click to enlarge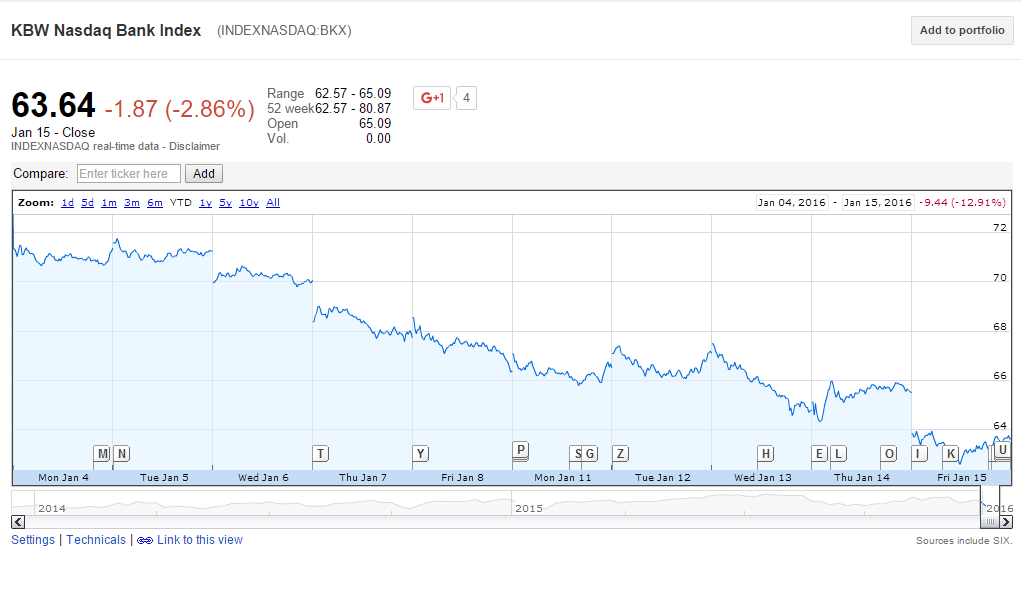 Source: Google Finance
The KBW Index is still well off the all-time highs reached before the Global Financial Crisis went it reached as high as 117.
Banks face plenty of headwinds despite years of solid growth since the crisis. The recent federal interest rate increase is technically supposed to benefit banks. From an article in the weekend journal:
First among those issues: Whether the market rout of the first two weeks of 2016 spells a sharp slowdown in global growth that will spill over into the U.S. and either throw the domestic economy into recession or, perhaps less acutely, prevent the Federal Reserve from executing a stated plan to raise short-term interest rates as many as four times this year.

Rising rates benefit banks because they make money on the wider spread between the interest charged for loans and the payments made to customers for deposits. Bets on bank stocks have repeatedly tripped up investors because rates have stayed lower for longer than expected and the Fed held off on raising benchmark rates until December.

"Bottom line: We need a better economy, we need loans to grow and we need rates to go higher," said Jesse Lubarsky, who trades financial stocks at Raymond James. "You can't invest in [the] group if you can't invest in an economy going higher and growing."

Bank stocks have continued to languish despite the Fed's decision to raise rates in December for the first time in nine years, in part because rates in the market have continued to fall and the global growth outlook has darkened.
Source: U.S. Bank Stocks Fall, Baffling Some, WSJ, Jan 15, 2016
Banks with high exposure to the energy sector are particularly vulnerable to further declines given the continuing crash of crude oil prices.  Some of the banks hurt by the energy sector include: Zions Bancorporation (ZION), Cullen/Frost Bankers, Inc. (CFR), BOK Financial Corporation (BOKF) according to another journal article.
Disclosure: No Positions