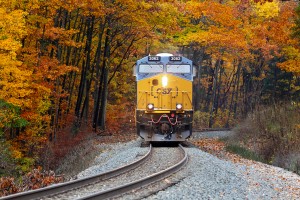 Eight railroad companies currently trade on the New York Stock Exchange. Out of these five are American railroads. Now CSX Corporation, one of the Class I railroads is moving its stock listing from the NYSE to NASDAQ effective after the market close of December 21, 2015. The ticker will continue to remain "CSX".
Below is an excerpt the press release:
JACKSONVILLE, Fla., Dec. 9, 2015 /PRNewswire/ — CSX Corporation (NYSE: CSX) announced today that the company will voluntarily transfer its stock exchange listing from the New York Stock Exchange to The Nasdaq Global Select Market, effective after market close on December 21, 2015. The company's common stock will continue to trade under its existing "CSX" symbol.

"Moving to The Nasdaq Global Select Market provides new opportunities and synergies for CSX, and more closely aligns with the platform where most of our trading activity already takes place," said Frank Lonegro, executive vice president and chief financial officer, CSX. "This decision is consistent with our commitment to reduce costs and uphold consistently high standards of corporate governance."

"CSX Corporation is a critical player in the global supply chain and represents the type of growth-oriented and industry-defining companies that call Nasdaq home," said Nelson Griggs, Executive Vice President, Listing Services, Nasdaq. "We are proud to welcome CSX Corporation to the Nasdaq family and look forward to our long-term partnership with the company and its shareholders."
More info can be found at the CSX investor relations site.
For investors this move will not impact in any way.
Disclosure: Long CSX