South Africa is an interesting case among emerging markets. Though many investors may think of South Africa as just another another country that should be avoided at all costs, there are excellent opportunities available in the equity market.
South Africa has the most well developed economy in the continent and many domestic companies are global multinationals with big operations in countries outside of South Africa. Most of these South African large firms earn substantial revenues from their presence in other countries of Africa. For example, South Africa-based Standard Bank Group Limited (SGBLY) is major player in the regional market. In fact, South African equities have held up well relative to other emerging markets so far this year.
Here is an excerpt from a report from PSG Asset Management:
Equity markets have been very kind to investors over the past six years. In the graph below, we can see that, until two months ago, investors in the FTSE/JSE All Share Index (ALSI) had not experienced negative returns over a rolling twelve-month period since October 2009. There was a 10% drawdown during August and one-year returns briefly dropped into negative territory, but prices have subsequently recovered. It is worth pointing out that the strong performance of a handful of heavyweights (like Naspers and SABMiller) and rand weakness have supported the ALSI.
Click to enlarge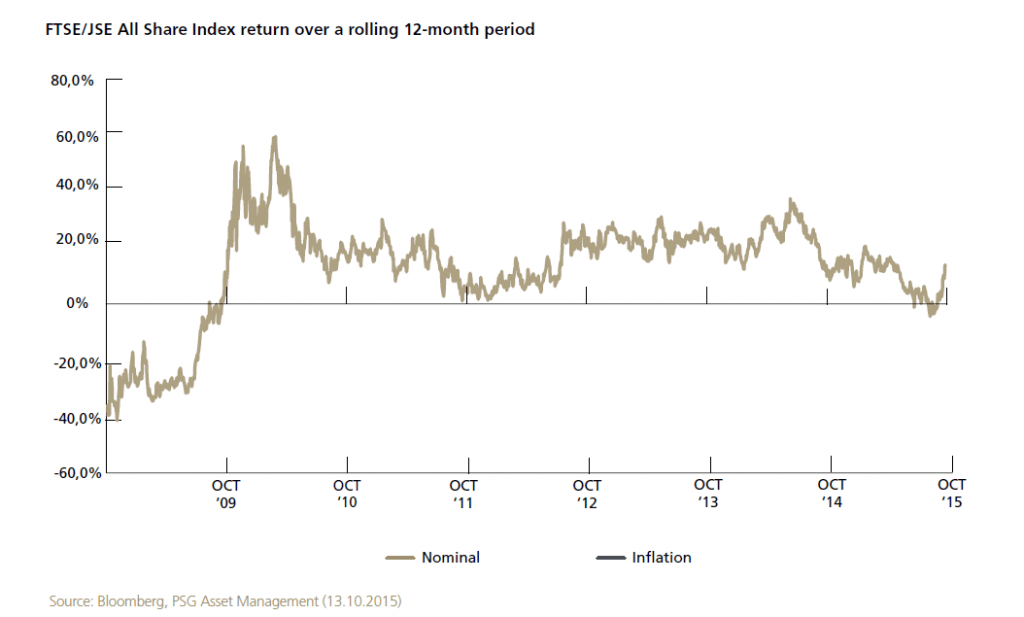 Source: ANGLES & PERSPECTIVES THIRD QUARTER 2015, PSG Asset Management
The simple and easy way to gain exposure to South African stocks is via the iShares MSCI South Africa ETF (EZA). The fund has over $361.0 million in assets and the Distribution Yield is 1.79%.
Some of the South African ADRs investors can consider are: Standard Bank Group Limited (SGBLY), Nedbank Group Limited (NDBKY), MTN Group (MTNOY) and Santam(STAMY).
Disclosure: No Positions