The South African equity market had a tumultuous ride in 2017. Despite the many political and company specific collapse the JSE All Share Index had a decent run with a gain of 21% for the year. With Zuma thrown out of power and replaced by Cyril Ramaphosa as President, South Africans can now look forward to a more economic reforms and growth this year and beyond.
The chart below shows the key events and the movement of the index in 2017:
Click to enlarge
Source: Monthly Insights – Feb 2018, Cannon Asset Managers
An excerpt from the report:
From January 2016 to May 2017, the Johannesburg Stock Exchange's All Share Index (ALSI) moved largely in a sideways direction. However, fast-forward six months, and the bourse reached successive record highs. Having started 2017 at 51,020 points, the overall index hit a high of 61,211 points in late November, the highest level in its 130 years history, before ending the year at 59,504 points. During this period, the ALSI managed to shrug off a few setbacks including President Jacob Zuma's intervention to remove finance minister Pravin Gordan early in 2017, as well as the recessionary economic conditions that marred the business landscape. The graph above suggests that this year-end surge was helped along by various events such as the rally in the US market on the back of tax reform proposals and fiscal stimulus in the US. A stronger dollar also benefitted the large dual-listed companies which generate most of their income offshore and dominate the overall index.

Naspers, which owns about 33% in Tencent, the Hong Kong-listed Chinese multinational, also helped lead the ALSI's gains. The stock's price doubled in 2017, a rare sight for such a market heavyweight as it momentarily touched a price of R4,000 per share. Naspers makes up around 21% of the index and, as such, any movement has a substantial impact on the bourse. While the index gained 21% in 2017, if Naspers is excluded from this, the gain was only 8%. It took the efforts of both a downgrade by the S&P ratings agency of South Africa's credit ratings as well as a collapse of Steinhoff after its financial statements scandal to pull the index down. Nonetheless, it ended 2017 dramatically as the market cheered Cyril Ramaphosa's ANC leadership victory, reverting to the upward trajectory.
From a global investor perspective, emerging markets like South Africa are prone to major political shakeups once in a few years and the impact of political and economic uncertainties must be taken into account when making investment decisions.
Update(6/9/18):
JSE All Share Index-  Major Events in 2016:
Click to enlarge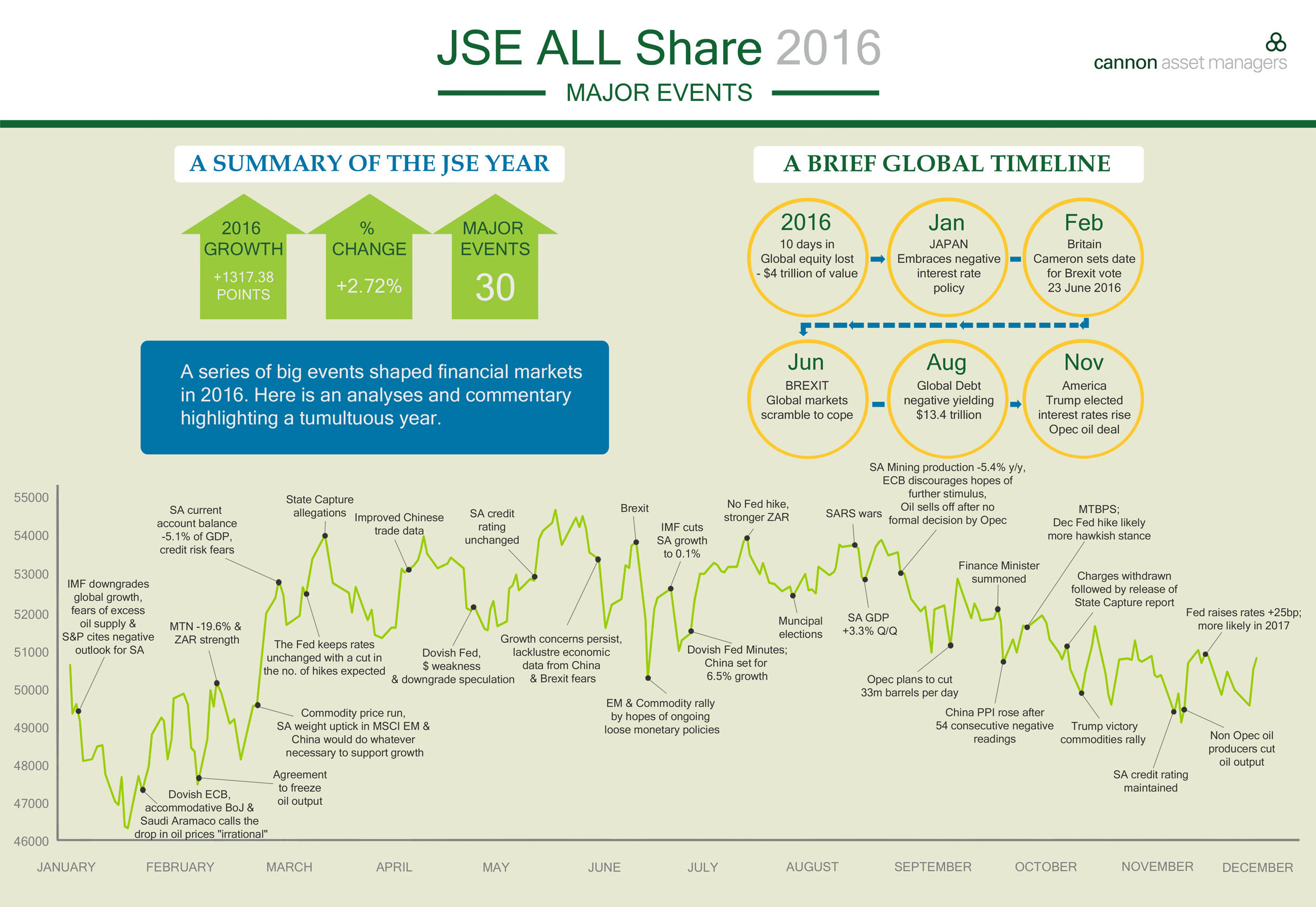 Source: Cannon