The Pharm Exec magazine published its annual ranking of the Global Pharma companies for 2015 earlier this year. The top ranked companies are selected based on sales.
From the research report:
Specialty drug sales, record-breaking M&A paired with tax synergies, and global expansion helped to bring a new face into this year's Pharma 50 top 10, and substantially boosted the rankings of several others.

Led by the breakout success of its hepatitis C virus (HCV) franchise, Gilead Sciences recorded $24.5 billion in global revenues for 2014. Gilead's rise into the top 10 list of biopharmaceutical companies, up from No. 18 in last year's ranking, demonstrates the fast-track opportunity of specialty markets, especially in areas of high unmet medical need. The company's announcement of its first quarterly cash dividend to stockholders, to be paid out beginning this month, is a clear sign of the growth Gilead has achieved as an organization.

Other climbers like Actavis, which jumped six places from 24 to 19 this year, have pursued an opportunistic growth platform with respect to M&A. Actavis completed its $66 billion acquisition of Allergan earlier this year, and intends to change its name as a result; look for Allergan rising to take a second new spot in the top 10, in next year's Pharma 50.

By now, the big Pharma players have all established a presence and capability in emerging markets. While the pace of growth has slowed in some emerging markets like Brazil and China, AbbVie was able to maintain its ranking position, in the No. 10 slot this year, due to its commitment to expanding the global footprint of its key products.
The Top 50 Global Pharma Companies for 2015 are shown below:
Click to enlarge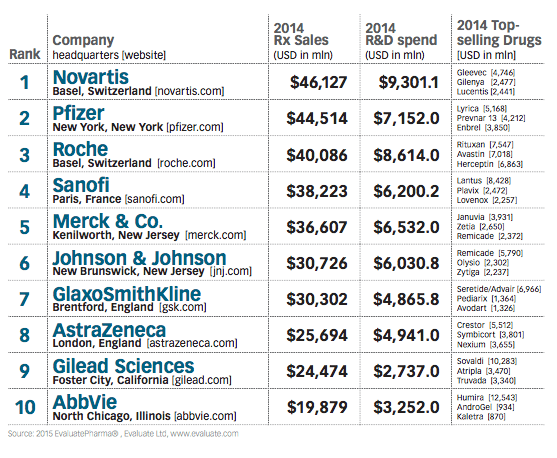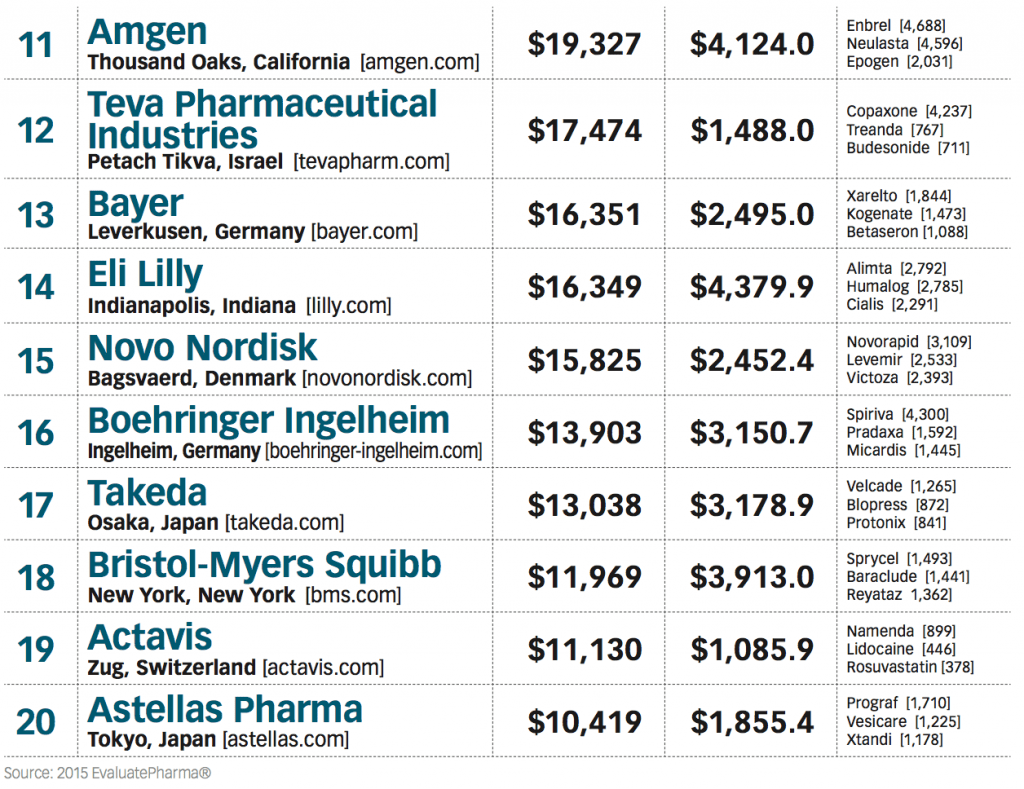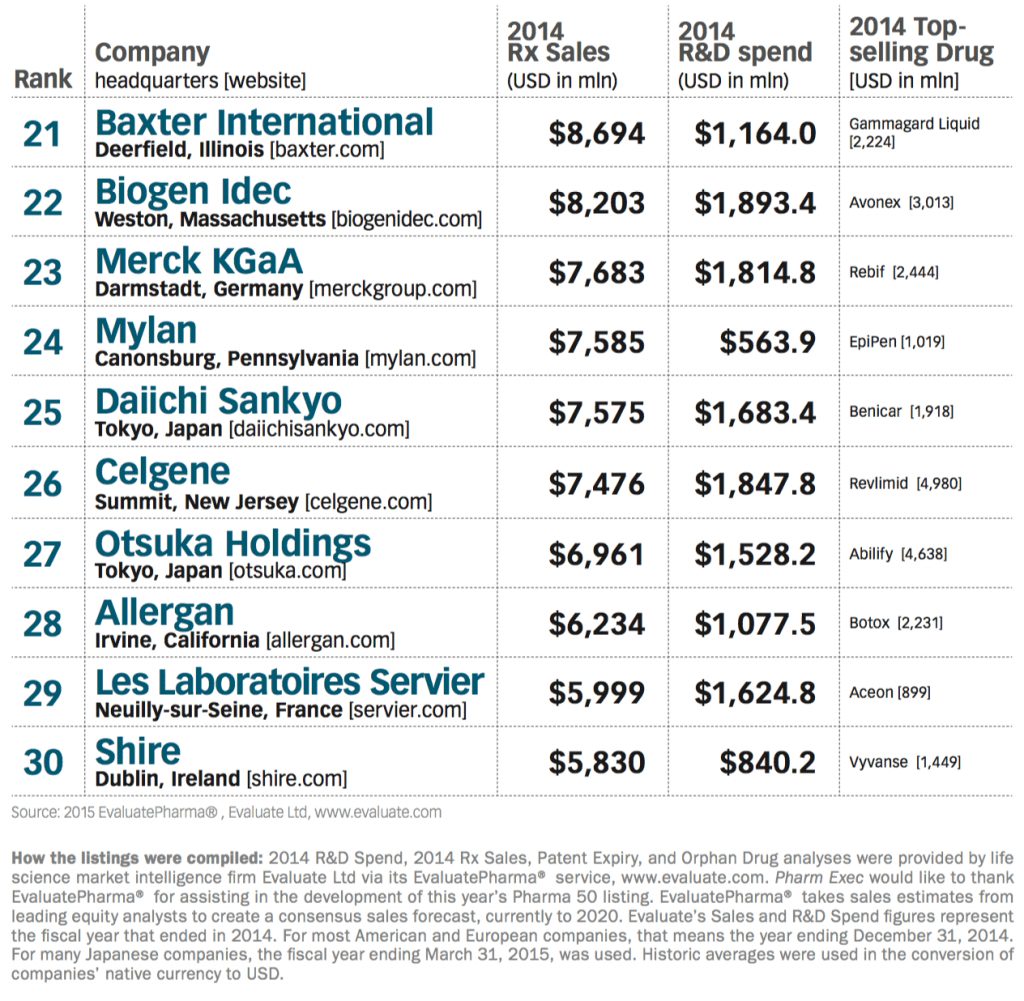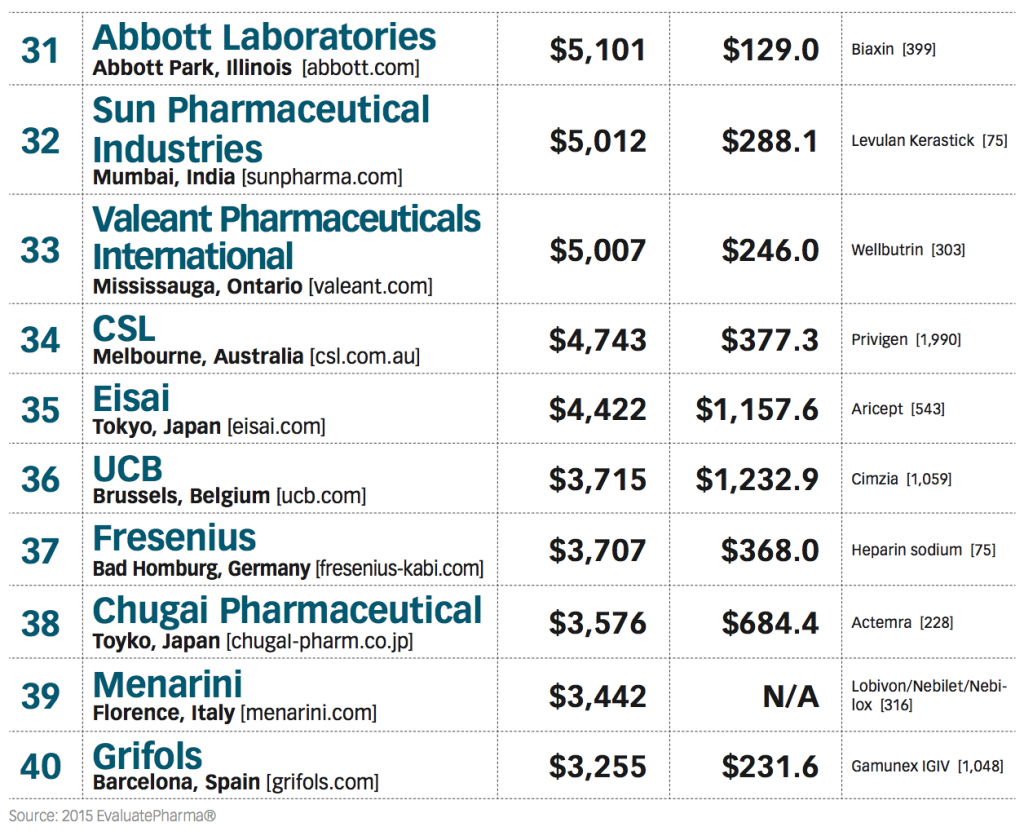 Source: Taking Flight: Pharm Exec's Top 50 Pharma Companies, Pharma Exec
A few observations:
Swiss-based Novarts(NVS) is the world's top drug firm in terms of revenue.
Danish drug maker Novo Nordisk(NVO) is an excellent option for long-term investment due to stronger growth of its drugs in markets like China. First-world diseases like Diabetes, Obesity and others are starting to affect millions of people in the developing world due to changing lifestyles of food habits.
Bio-tech company Gilead Sciences(GILD) produces drugs that treat some of the world's unique diseases. As the company is able to charge thousands of dollars for a single pill for these conditions its sales has skyrocketed in recent years. In markets like US where there is no price for drugs it is able to sell these high-priced drugs even to government healthcare programs at market prices. The company is also one of the top five biotech stars based on market capitalization.
Related: The Top 50 Global Pharma Companies 2014
Disclosure: No Positions