Biotech stocks have been red hot in the past few years and they continue to attract investors' attention this year as well. So far this year the NYSE Arca Biotech index is up by 9.2 compared to the 6.7% fall of S&P 500.
Many of the biotechs currently trading on the markets do not have proven drugs but rather are working on cures for many diseases including cancer. Only a handful of biotechs succeed and the rest usually disappear after a few years. Hence investing in this sector is not for all investors. In fact, investing in most of these companies can be considered speculative investments since nobody knows what which company will succeed and which ones will fail. Investors are simply betting that their company will discover the next big thing.
Currently over 150 biotechs trade on the NASDAQ. New companies including European firms went public in the past few months though the pace has declined due to the current market conditions.
The largest biotech ETF iShares Trust – iShares Nasdaq Biotechnology ETF (IBB) has shot up by over 298% in the past five years. A hypotectical growth of $10,000 (with reinvestment of dividends and capital gains) is shown in the chart below:
Click to enlarge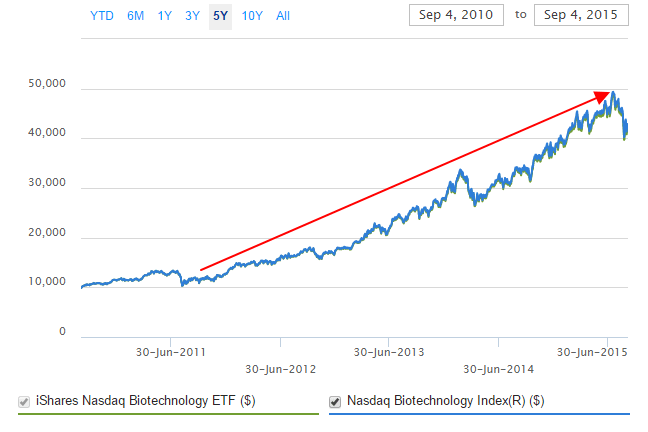 Source: iShares
The five largest biotechs by market value are listed below with their current market cap and dividend yields. These are also in top 10 holdings of the above ETF and these account for over 40% of the portfolio weight:
1.Company: Celgene Corp (CELG)
Current Dividend Yield: No dividends paid
Market Cap: $92.8 Billion
2.Company: Amgen Inc (AMGN)
Current Dividend Yield: 2.15%
Market Cap: $111.5 Billion
3.Company: Gilead Sciences Inc (GILD)
Current Dividend Yield: 1.69%
Market Cap: $149.8 Billion
4.Company: Biogen Inc (BIIB)
Current Dividend Yield: No dividends paid
Market Cap: $71.1 Billion
5.Company: Regeneron Pharmaceuticals Inc (REGN)
Current Dividend Yield: No dividends paid
Market Cap: $51.8 Billion
Note: Dividend yields noted above are as of Sept 4, 2015. Data is known to be accurate from sources used.Please use your own due diligence before making any investment decisions.
Disclosure: No Positions