The FTSE 100 is down by early 8% year-to-date compared to S&P 500's decline of about 7.0% YTD. However according to a report by JPMorgan UK, British equities have brighter prospects ahead than US stocks. From an article quoting the report:
In a wide-ranging note, they looked at UK shares valuations and prospects and came out positive.

Looking at long-term valuation using the Shiller cyclically adjusted price-to-earnings ratio, or CAPE as it is known, the analysts pointed to the current stand point below the average level.

They said: 'Valuations in the UK, much like the rest of the developed world, are not as cheap as they once were but are still some way off "extreme" valuation territory.

As Exhibit 5 illustrates, the Shiller cyclically adjusted price/earnings (P/E) ratio in the UK remains below its long-run average, suggesting that UK equities still have more room to run.

'This chart also includes the Shiller P/E ratio for the US index to show the relative undervaluation of the UK compared with the world's largest developed market. Furthermore, earnings forecasts for 2015 suggest that UK equity earnings are improving and this should help keep these valuations in check going forward.'
Click to enlarge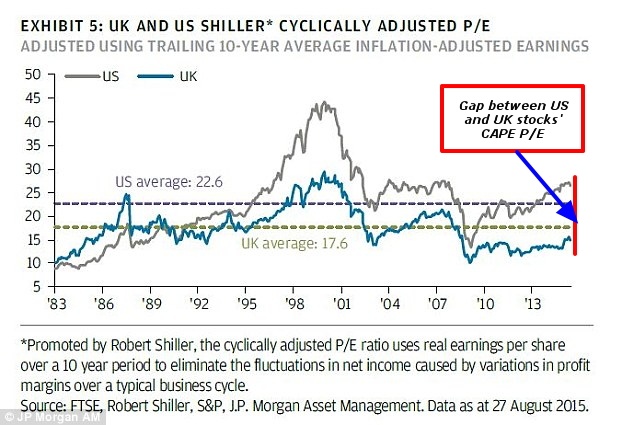 Source: Is it time to buy the dip? The stock market is suffering but now could be a good time to buy UK shares, say analysts, This is Money
Three points to remember for US investors:
British companies have substantially higher dividend yields than their US peers.
The British dividend withholding tax is 0% for UK equities (excluding REITs).
Many of the large British firms in the FTSE 100 derive a high portion of their revenues from overseas markets than the domestic market. So their earnings will be adversely impacted due to ongoing volatility in emerging markets. But they also have substantial exposure to the US and other developed markets. So opportunities can be found with careful selection.
Eleven British stocks to consider for further research are listed below with their current dividend yields:
1.Company:Diageo PLC (DEO)
Current Dividend Yield: 3.35%
Sector: Beverages
2.Company: AstraZeneca PLC (AZN)
Current Dividend Yield: 4.42%
Sector: Pharmaceuticals
3.Company: Vodafone Group PLC (VOD)
Current Dividend Yield: 5.12%
Sector: Wireless Telecom
4.Company: British American Tobacco PLC (BTI)
Current Dividend Yield: 4.48%
Sector:Tobacco
5.Company: Royal Dutch Shell PLC (RDS.A)
Current Dividend Yield: 7.59%
Sector:Energy
6.Company: Imperial Tobacco PLC (ITYBY)
Current Dividend Yield: 1.40% 3.90%
Sector:Tobacco
7.Company: Aviva PLC (AV)
Current Dividend Yield: 4.03%
Sector: Insurance
8.Company: Legal & General PLC (LGGNY)
Current Dividend Yield: 4.80%
Sector: Insurance
9.Company: Reckitt Benckiser Group plc (RBGLY)
Current Dividend Yield: 2.27%
Sector: Household goods
10.Company: National Grid plc (NGG)
Current Dividend Yield: 5.21%
Sector: Electric Utilities
11.Company: Unilever PLC (UL)
Current Dividend Yield: 3.42%
Sector: Consumer Staples
Note: Dividend yields noted above are as of Sept 4, 2015. Data is known to be accurate from sources used.Please use your own due diligence before making any investment decisions.
Disclosure: Long LGGNY and RBGLY