U.S. Investors looking for dividend income and some price appreciation can look overseas for excellent opportunities. With global markets shaky in the past few weeks many stocks are at attractive levels especially for investors willing to hold for the long-term.
Three reasons for investing in foreign stocks for dividend income are as follows:
The current yield on the S&P 500 is 2.00%. Even though this is the average figure and that there are stocks that pay more than 2%, the reality is that most companies have yields of less than 5% or even 4%.
Holding foreign stocks in a portfolio also provides diversification benefits.
As the chart shows below dividend yields for US stocks have been shrinking for many decades now and this is unlikely to change anytime soon due to investors' preference for price growth over dividends.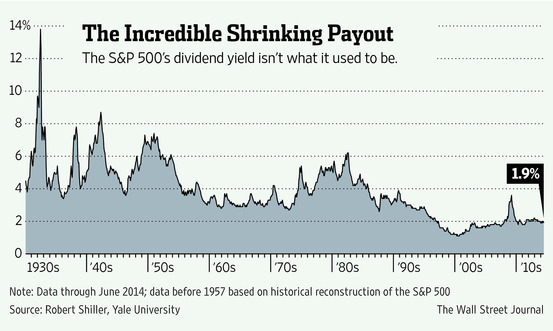 Source: Not Your Father's Dividend Stocks, The Wall Street Journal, Oct 3, 2014
When investing in foreign stocks, investors will be hit with withholding taxes on dividends. However the good news is there are some countries that do not withhold taxes on dividends paid out to foreign investors. So investors looking to add international stocks for dividends but want to avoid paying the dividend withholding taxes can consider companies from these countries. Ten foreign stocks that avoid the dividend withholding taxes for US investors are listed below with their current dividend yields:
1.Company:Diageo PLC (DEO)
Current Dividend Yield: 2.91%
Sector: Beverages
Country: UK
2.Company: AstraZeneca PLC (AZN)
Current Dividend Yield: 4.21%
Sector: Pharmaceuticals
Country: UK
3.Company: DBS Group Holdings Ltd (DBSDY)
Current Dividend Yield: 2.79%
Sector: Banking
Country: Singapore
4.Company: Singapore Telecom (SGAPY)
Current Dividend Yield: 4.15%
Sector: Telecom
Country: Singapore
5.Company: Singapore Airlines Limited (SINGY)
Current Dividend Yield: 3.67%
Sector: Airlines
Country: Singapore
6.Company: Westpac Banking Corp (WBK)
Current Dividend Yield: 5.99%
Sector:Banking
Country: Australia
7.Company: Australia and New Zealand Banking Group Ltd (ANZBY)
Current Dividend Yield: 6.20%
Sector:Banking
Country: Australia
8.Company: Telstra Corp Ltd (TLSYY)
Current Dividend Yield: 5.39%
Sector:Telecom
Country: Australia
9.Company: National Grid PLC (NGG)
Current Dividend Yield: 5.16%
Sector: Multi-Utilities
Country: UK
10.Company: Bancolombia S.A. (CIB)
Current Dividend Yield: 3.51%
Sector:Banking
Country: Colombia
Note: Dividend yields noted above are as of July 24, 2015. Data is known to be accurate from sources used.Please use your own due diligence before making any investment decisions.
Disclosure: Long WBK