US-based Wells Fargo(WFC) has come the world's valuable bank bank based on market capitalization, according to an article in The Wall Street Journal today. Wells Fargo exceed the market capitalization of ICBC (IDCBY) of China recently.
Click to enlarge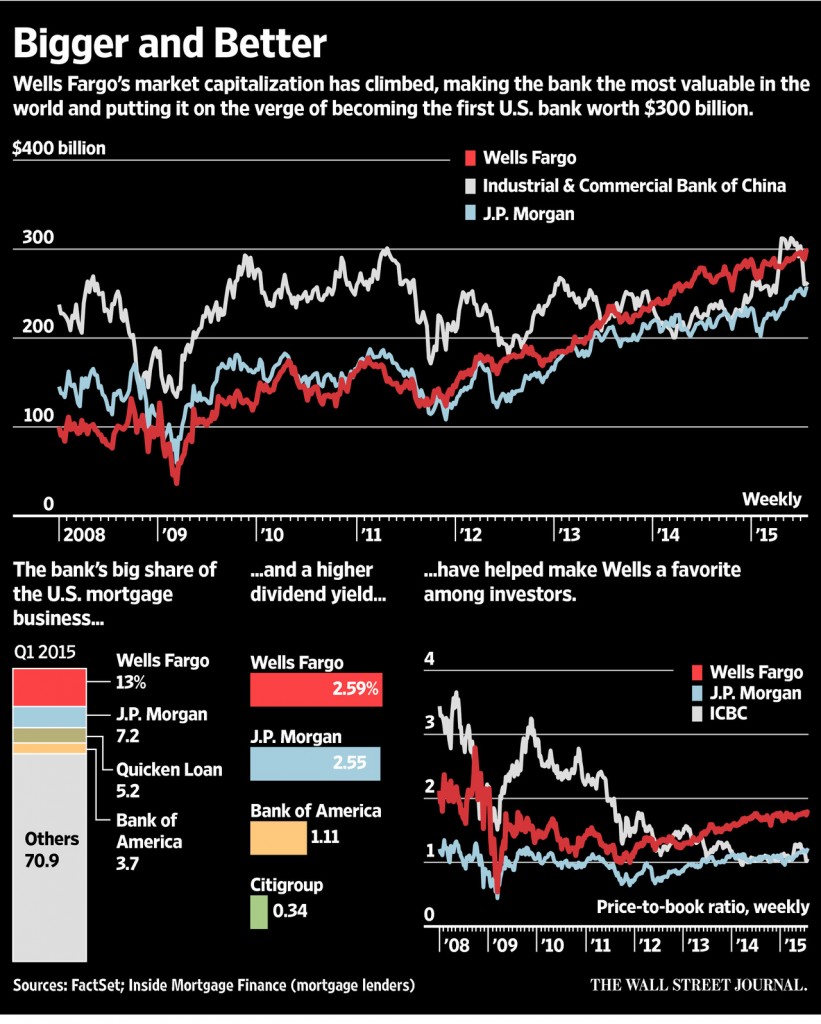 Source: Wells Fargo & Co. Is the Earth's Most Valuable Bank, The Wall Street Journal, July 22, 2015
Currently Wells Fargo's market cap is over $301.0 billion. Though Wells is the most valuable bank, in terms of return to equity investors, the world's best bank is Sweden's Handelsbanken AB(SVNLY). From my article Which is the World's Best Stock? in 2010:
The world's best stock in terms of returns is not a U.S.-based company stock. Many people assume that Warren Buffet's Berskhire Hathaway is the world's best stock. However that is not true.

According to the Swedish business daily Dagens Industrials stock market expert  and author Bjorn Wilke, Sweden's Handelsbanken is the best stock in the world. The company first listed on the Stockholm Stock Exchange in 1873. Since 1900 the stock has gained unimaginable 1.9 million percent thru September last year. That amounts to 10 percent a year not including dividends. A $10 investment made in the stock in 1900 would be worth about 20 million dollars as of September 2009.
Additional information on Handelsbanken can be found in this article: Svenska Handelsbanken, A Rock Solid Bank With Good Growth Prospects at Seeking Alpha.
At $7.71 a share, Handelsbanken ADR has a dividend yield of 4.39% now and the bank has a market cap of over $86.0 billion.
Disclosure: No Positions