The Russian economy is highly dependent on commodities especially the oil and gas industry. The performance of the economy and the equity benchmark RTS index is co-related to the price of the oil. In fact, the oil sector accounted for about 50% of Russia's exports of goods and services in 2013 and provided 45% of the total revenues for the government. In 2013, Russia accounted 12% of the world's oil output behind only to Saudi Arabia.
Contribution of oil sector to Russian exports:
Click to enlarge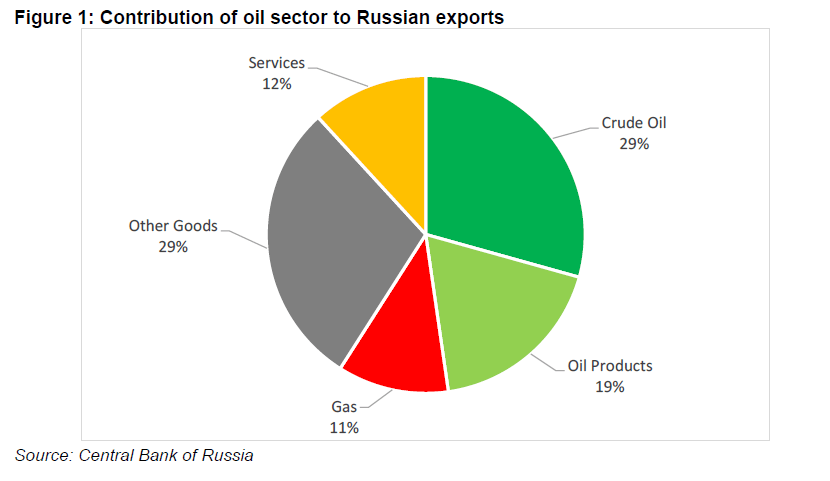 In terms of oil production, just five firms account for 75% of the total output topped by Rosneft.
The following chart shows the Russian oil production by company:
Unlike Western countries, the majority of oil production in Russia is controlled by the state. In fact, the Russian government owns just under 70% of Rosneft.
The balance sheet of major Russian oil and gas firms are in healthy shape following many years of high oil prices as shown in the chart below. Surgutneftegas has a huge cash balance of $35 billion. Gazprom, Lukoil and Gazpromneft all have relatively low net debt levels relative to their equity base. Rosneft has high debts with total net debt at $44 billion and a net debt/equity ratio of 86%.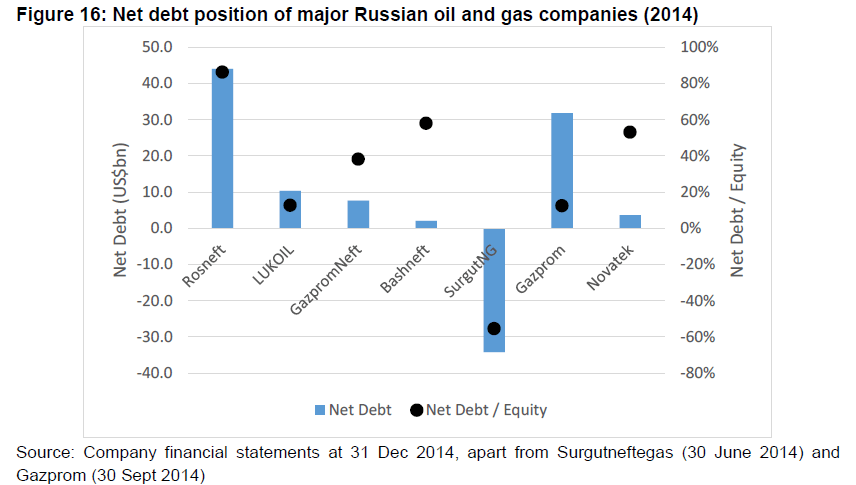 Source: Key Determinants for the Future of Russian Oil Production and Exports by James Henderson, The Oxford Institute for Energy Studies, University of Oxford, April 2015
How to invest in stocks of Russian oil and gas firms?
One way to invest in them is via ADRs trading on the US markets. None of the major Russian oil companies trade on the exchanges. However they trade on the OTC markets. The following are some of the firms that are easy to invest in for US investors:
1.Company: Gazprom OAO (OGZPY)
Current Dividend Yield: 7.41%
2.Company: Gazprom Neft (GZPFY)
Current Dividend Yield: 9.61%
3.Company: Lukoil (LUKOY)
Current Dividend Yield: 5.49%
4.Company: Rosneft Oil Company (OJSCY)
Current Dividend Yield: 7.99%
5.Company: Surgutneftegas (SGTPY)
Current Dividend Yield: 8.89%
6.Company: Taftneft (OAOFY)
Current Dividend Yield: 4.14%
Note: Dividend yields noted above are as of May 29, 2015. Data is known to be accurate from sources used.Please use your own due diligence before making any investment decisions.
Disclosure: No Positions