"I cannot forecast to you the action of Russia. It is a riddle wrapped in a mystery inside an enigma, but perhaps there is a key. That key is Russian national interest." –  Sir Winston Churchill, 1939
The Russian economy is the largest among East European countries. At about $2.4 Trillion in 2011 Russia is the 7th largest economy in the world, according to the CIA's The World Factbook site. The commodity-based Russian economy is heavily dependent on exports of oil, gas and other minerals. Unlike the other BRIC countries, Russia is a long way from having a diversified economy. Despite having one of the largest economies Russia is not an attractive destination for global investors.
In this post, let me know summarize some of the key points from a research report titled "Diversifying Russia, Harnessing regional diversity" published by the European Banks for Reconstruction and Development.
Oil and gas exports account for about 70% of total goods exports.
Oil and gas revenues also contribute about half of Russia's Federal government budget.
The public sector accounts for more than 40% of total employment though private sector employment is growing slowly.
Click to enlarge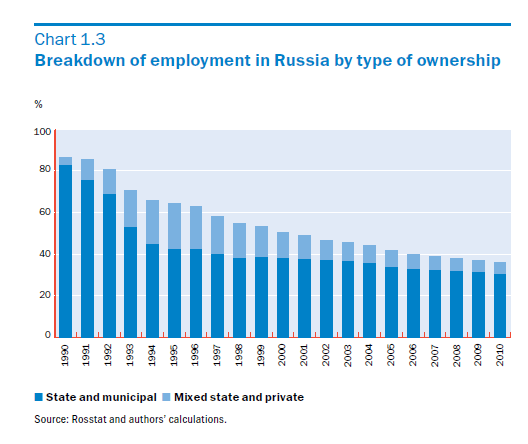 Only 10% of the total manufacturing employment is employed in sectors not directly to related oil, gas or other natural resources.
In a recent survey, Russia lagged way behind advanced and emerging countries in management skills.
About 75% of R&D is conducted by public institutions.
Only 1% of national income is spent on R&D, well below the OECD average.
Russia lags in innovation by private companies compared with other countries including China as the lack of finance capital, poor intellectual property rights, etc. constrain the growth of startups.
Due to the legacy of the Soviet Union, Russia has more researchers per million of the population than other countries such as China, Brazil, etc.
 The performance of Russia's benchmark RTS index is highly correlated to the price of crude oil:
Source: Diversifying Russia, Harnessing regional diversity, European Bank for Reconstruction and Development
The multi-year performance of Russia's RTS index is shown below: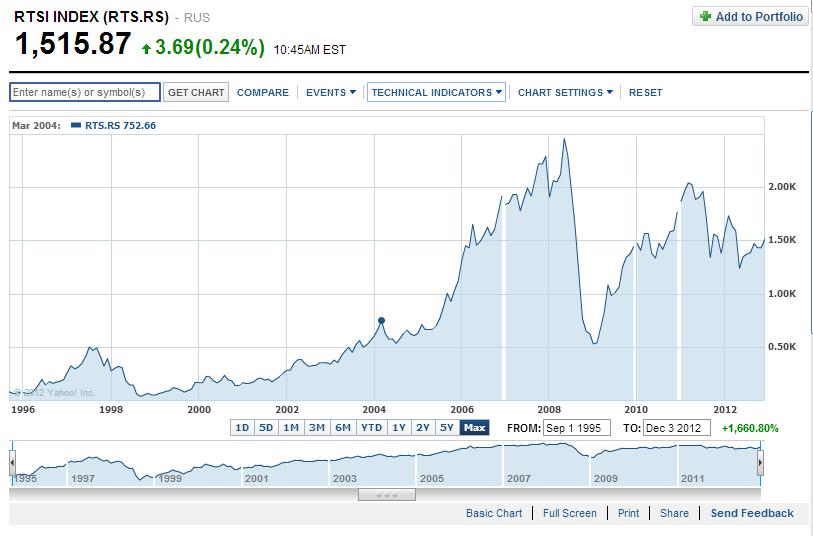 Russian companies trade on the NYSE include the integrated mining and steel company Mechel OAO (MTL) and telecom providers Mobil'nye TeleSistemy OAO (MBT) and VimpelCom (VIP), headquartered in The Netherlands.
Related ETFs:
Market Vectors Russia ETF (RSX)
SPDR S&P Russia ETF (RBL)
Disclosure: No Positions