On Tuesday Feb 24th, UK's benchmark Index the FTSE 100 closed at 6949.63 surpassing the peak it last reached 15 years ago during the dot-com boom. It took the index an astonishing decade and half to regain this level.
Click to enlarge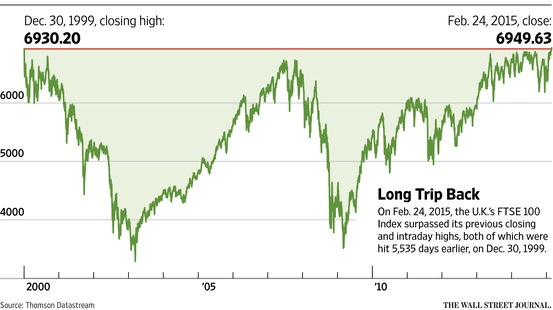 Source: As FTSE Hits a Record, Scratch Beneath the Surface, Moneybeat, The Wall Street Journal
Here are five interesting facts about the FTSE 100:
The index is made up of the 100 largest companies by market capitalization listed on the London Stock Exchange.
Though the index is highly popular it is not a good barometer of the British economy since companies in the index earn 75% of their revenues from abroad.
According to research by Hargreaves Lansdown, the same companies lead the index now as in 1999:
Mining and oil companies make up about a fifth of the FTSE 100. These firms earn most of their revenues from emerging markets.
The FTSE 100 index is calculated excluding dividends. Germnay's DAX includes dividends. The chart below shows the performance of FTSE 100, DAX and Japan's Topix including dividends:
Click to enlarge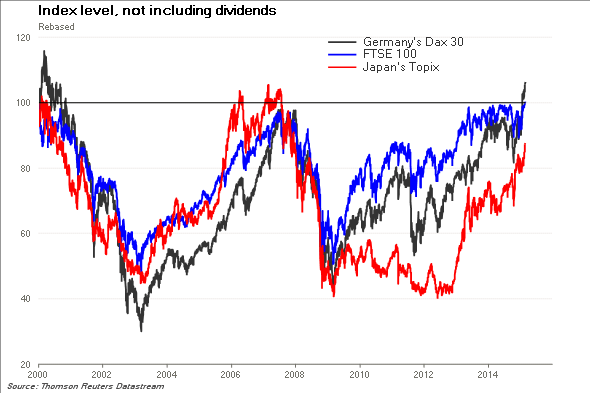 Sources:
After 15 Years, FTSE Climbs to a Record, The Wall Street Journal
FTSE 100 hits 15-year highs, but it's no time to sell, MoneyWeek
Five How to play Footsie, FT Alphaville
Related ETF:
iShares MSCI United Kingdom (EWU)
You can also check out the list of British ADRs trading on the US markets.
Disclosure: No Positions
Update:
Click to enlarge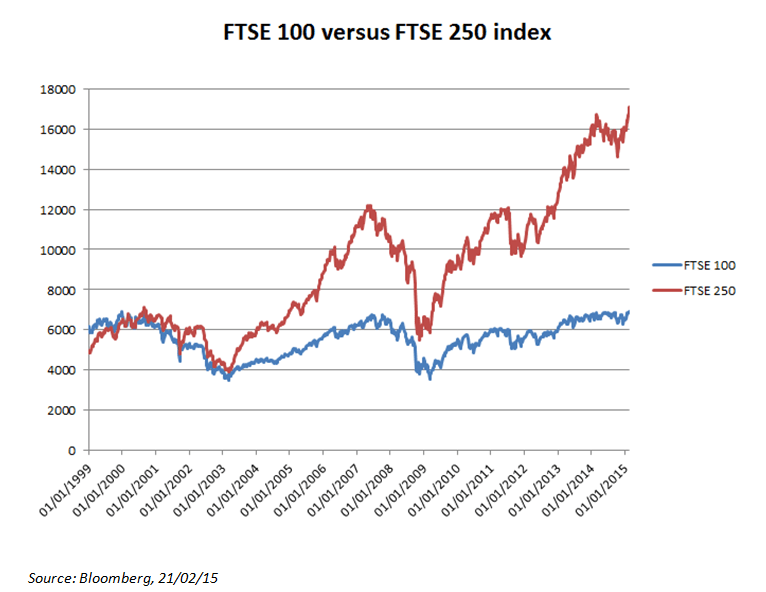 Despite its wide acclaim, the FTSE 100 index has actually been a pretty poor performer over this 15 year time period. Most other major stock market indices such as the S&P 500 in the U.S. have outperformed the FTSE 100. The FTSE 250 index which consists of smaller market capitalisation companies has trounced the FTSE 100, rising nearly 170% over this period. Part of the underperformance of the FTSE 100 can be explained by its higher dividend yield, but even adjusting for this there is no getting away from the conclusion that the index has been a laggard.
Source: A tale of three sectors, Feb 24, 1015, Allianz
Updates: