European firms generally tend to pay a higher portion of their earnings as dividends to shareholders. Unlike US firms they do not target a specific dividend amount or an yield but rather target to payout a specific payout ratio. One reason to invest in European dividend paying stocks is that their average payout ratios are higher than the world, US and Asia stocks as shown in the chart below:
Click to enlarge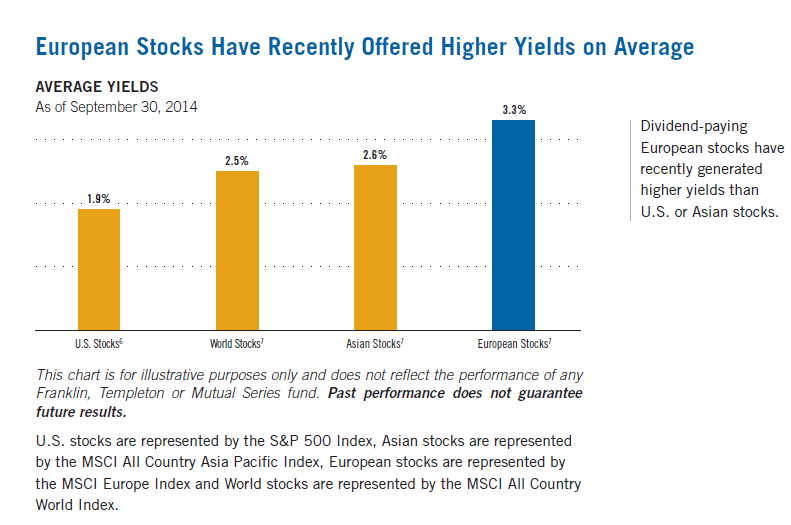 Source: The Truth About Europe, Franklin Templeton Investments
Though most European companies dividends only twice a year the amounts paid out can be substantial compared to their peers in USA and Asia.
Five European dividend stocks are listed below for consideration:
1.Company: British American Tobacco PLC (BTI)
Current Dividend Yield: 4.27%
Sector:Tobacco
Country: UK
2.Company: Novartis AG (NVS)
Current Dividend Yield: 2.85%
Sector: Pharmaceuticals
Country: Switzerland
3.Company: Total SA (TOT)
Current Dividend Yield: 6.17%
Sector: Oil, Gas & Consumable Fuels
Country: France
4.Company: Siemens AG (SIEGY)
Current Dividend Yield: 3.71%
Sector:Industrial Conglomerates
Country: Germany
5.Company: Nestle SA (NSRGY)
Current Dividend Yield: 3.11%
Sector: Food Products
Country: Switzerland
Note: Dividend yields noted above are as of Jan 23, 2015. Data is known to be accurate from sources used.Please use your own due diligence before making any investment decisions.
Disclosure: No Positions