The Canadian economy will underperform the US economy over the next few years due to the impacts of lower crude oil prices according to a special report by Thomas Julien of Natixis. Here is the summary of the report:
The fall in oil prices is likely to result in mixed effects for Canada. On the one hand, the fall in petrol prices and the depreciation of the exchange rate against the US dollar in a context of accelerating US growth ought to stimulate household spending and give a boost to industries that are not exposed to the energy sector. The mining sector, on the other hand, which accounts for a significant share of the Canadian economy, will suffer from a persistently low level of crude prices. We therefore expect the continuation of the cyclical recovery in the short term, which is likely to be dampened in the medium term by a weakening in investment in the mining sector and probably a softening of the internal demand due to some deleveraging in the household sector. This configuration reinforces our expectations in terms of monetary tightening, which we expect will start at the end of 2015 (i.e. after the Fed). Based on this view and as oil prices can dip lower in Q1,we believe there is room for the exchange rate to depreciate further in the short term.
The three key points noted by Mr.Julien are:
Canadian consumers will benefit from the lower gas prices.
The mining sector will be hurt if the current oil price trend stays for sometime.
The depreciation of the Canadian dollar against the US dollar will give a boost to non-oil industries that export to the US.
Though the favorable exchange rate would benefit non-oil industries labor costs are high in Canada compared to the U.S. especially in the manufacturing sector as shown in the chart below:
Click to enlarge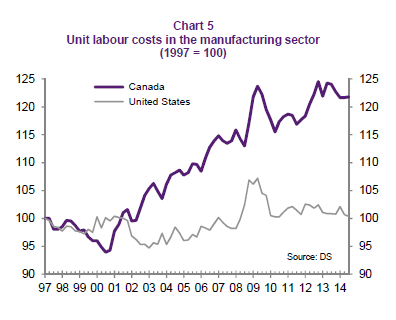 Canadian exports to the U.S. have been flat in the past few years:
Click to enlarge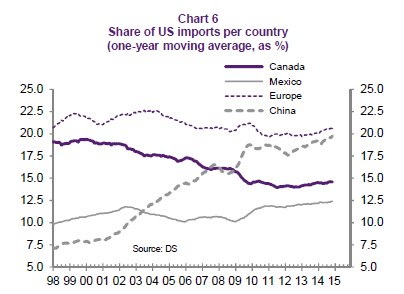 Source: Should we be worried about Canada in 2015?, Jan 15, 2015, Natixis
Five Canadian stocks trading on the NYSE are listed below:
1.Company: TELUS Corp (TU)
Current Dividend Yield: 3.93%
Sector: Telecom
2.Company: BCE Inc (BCE)
Current Dividend Yield: 4.55%
Sector: Telecom
3.Company: TransCanada Corp (TRP)
Current Dividend Yield: 3.68%
Sector: Oil & Gas Transportation
4.Company: Enbridge Inc (ENB)
Current Dividend Yield: 3.01%
Sector: Oil & Gas Transportation
5.Company: Magna International Inc(MGA)
Current Dividend Yield: 1.58%
Sector: Auto Components
Note: Dividend yields noted above are as of Jan 23, 2015. Data is known to be accurate from sources used.Please use your own due diligence before making any investment decisions.
Disclosure: No Positions
Related:
Hey Canadian investors: Buy America, Jan 27, 2015, Financial Post