IHS acquired the prestigious energy and oil consultancy PFC Energy in 2013. Since then, the popular PFC annual ranking of the world's largest energy and related-industry firms have been renamed as IHS Enery 50. This year's ranking using 2014 data will be published next month. For now lets take a look at the 2014 rankings.
NOTE: All the data shown below including are based on 2013 data.
1. The Global Top 15 Oilfield & Drill Services Firms:
Click to enlarge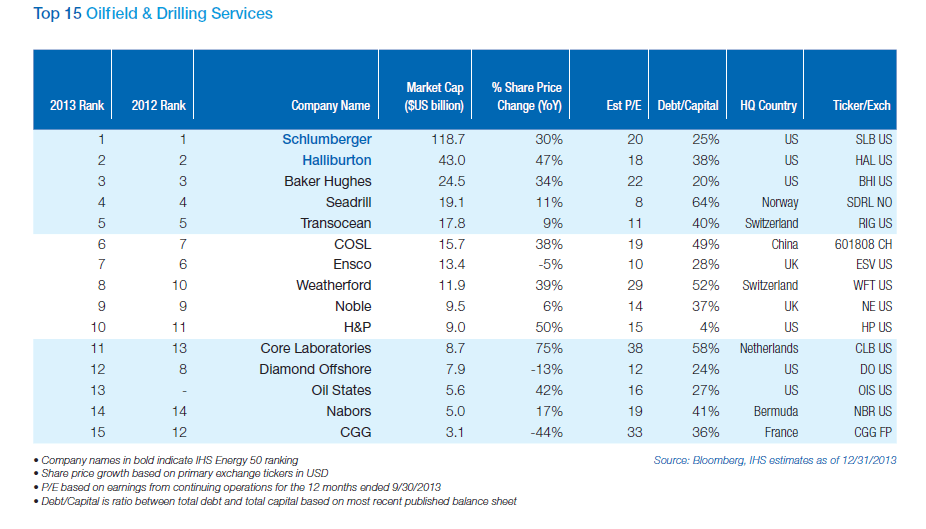 Even after falling nearly 50% with the crash in oil prices in the past few months, Schlumberger(SLB) has a market capitalization of over $104 billion.Competitor Halliburton's (HAL) stock price has declined from $74 to $41 now. In November of last year Norwegian oil services company Seadrill(SDRL)  suspended its dividend payments causing a major crash in its stock price. Today the stock goes for about $10 a piece.France-based CGG SA (CGG) may have a rough ride for some time since Technip(TKPPY) ended its takeover plan.
2. The Global Top 15 Equipment, Engineering and Construction Firms:
Click to enlarge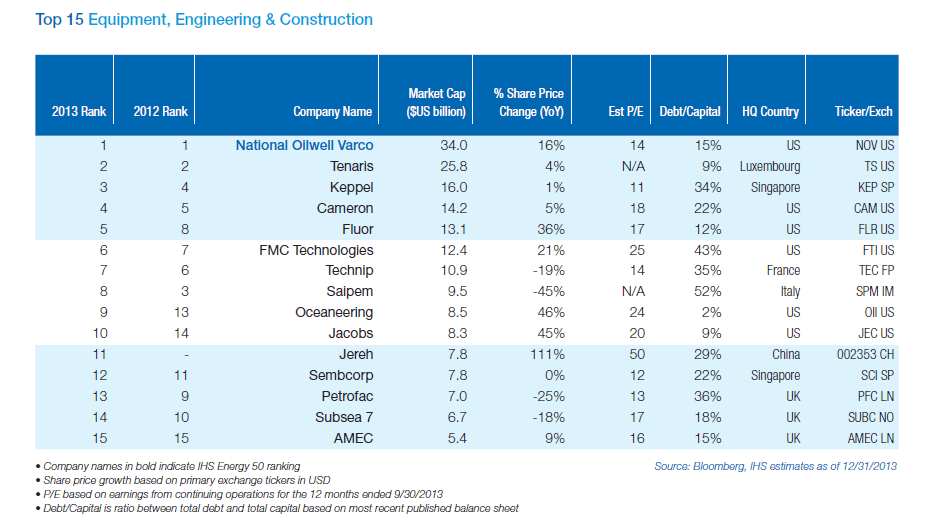 The above companies provide all the equipment and build the facilities and infrastructure needed by the big oil majors. Their share prices have also declined sharply in recent months. However investors can nibble at some of these companies at current levels.
3. The Global Top 15 Midstream & Infrastructure Firms:
Click to enlarge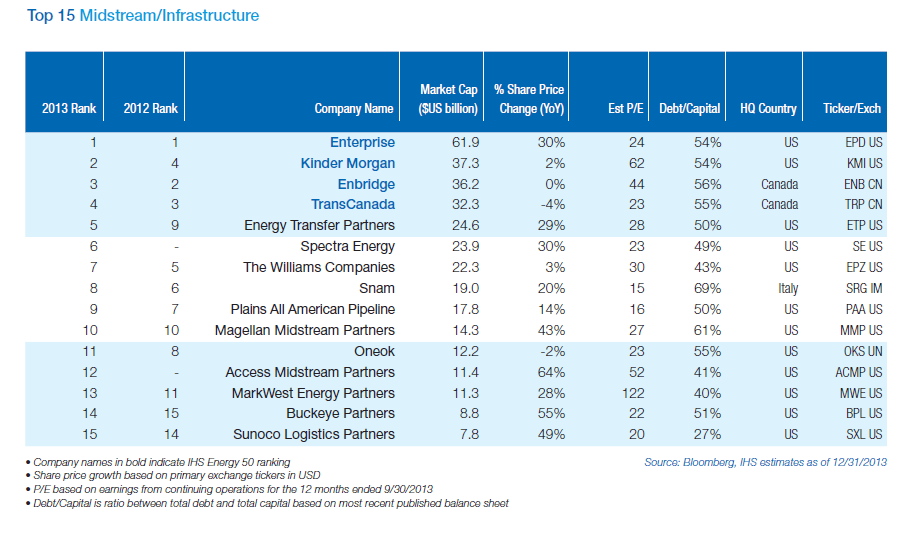 4. The Global Top 15 Refining & Marketing Firms:
Click to enlarge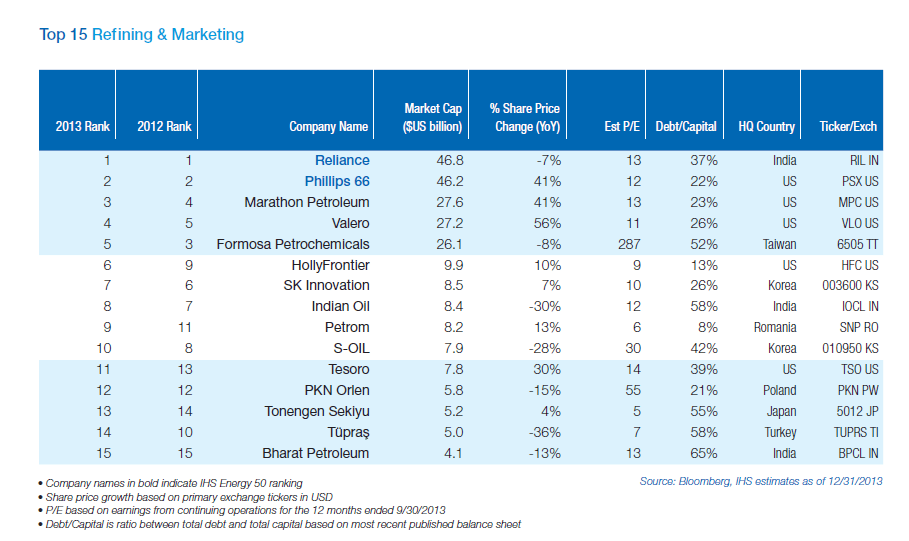 5. The Global Top 15 Exploration & Production Firms: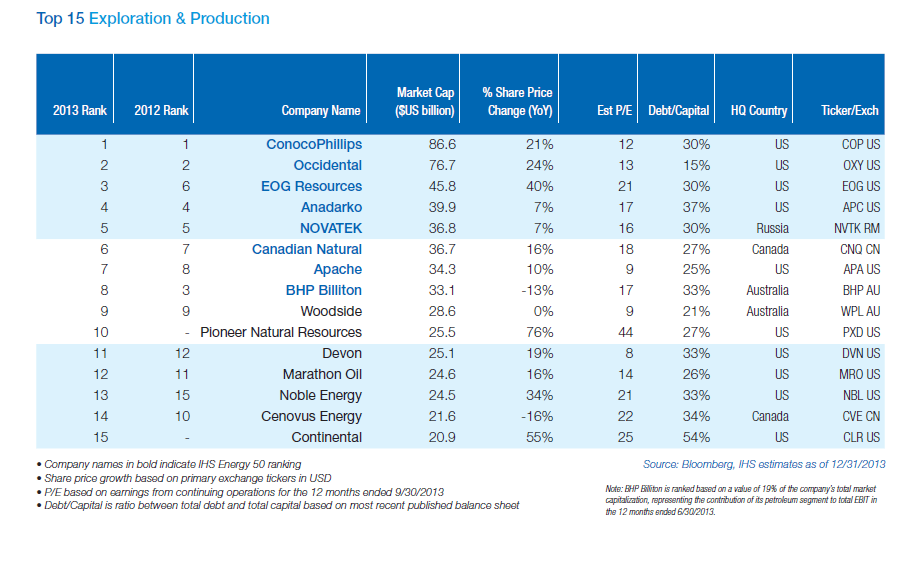 6. The IHS Energy 50:
Click to enlarge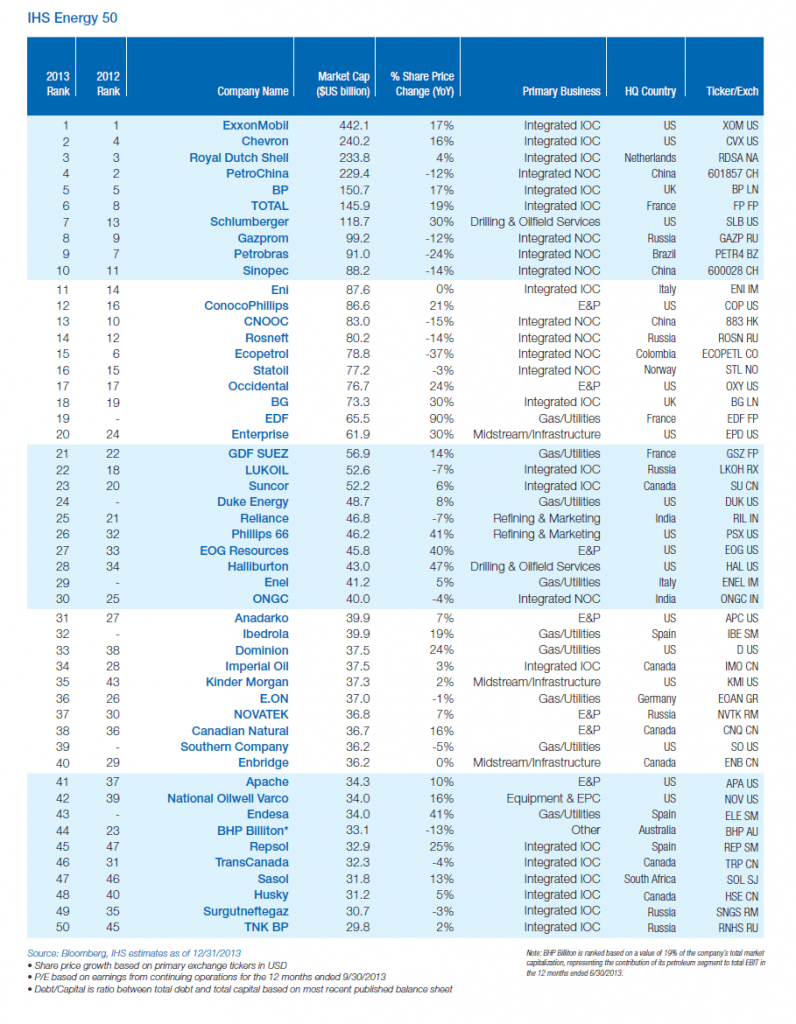 Note:
IOC – Integrated Oil Companies
NOC – National Oil Companies
Source: IHS Energy 50, IHS
Most of these IOCs and NOCs have major declines in their market caps since last year. It would be interesting to see how this year's ranking turns out. The Russian oil firms Gazprom and Lukoil trade on the OTC with the tickers OGZPY and LUKOY respectively.
Download: IHS Energy 50 Full Report for 2014 (in pdf)
Disclosure: Long TKPPY