In 2011, FT's beyondbrics blog published an interesting chart showing the top five firms by market capitalization in BRIC countries and discussed about how a few large companies dominate the stock market in those markets. I am including that chart below in order to add some perspective to this post.
Click to enlarge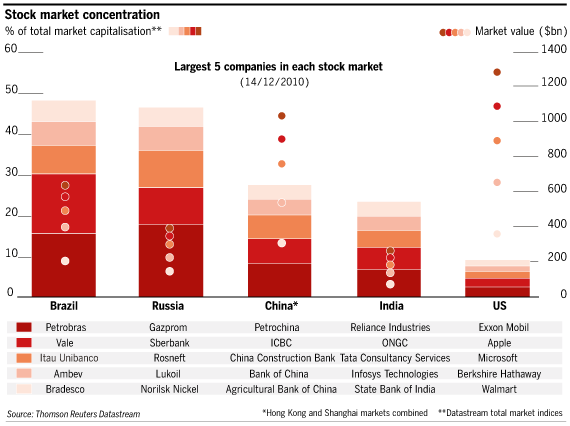 Source: Chart of the week: Bric stock market concentration, Jan 4, 2011, FT beyondbrics
Since 2011 emerging markets have undergone substantial changes.  The chart below shows the stock market capitalization of the largest five companies from Brazil, Russia, India and China:
Click to enlarge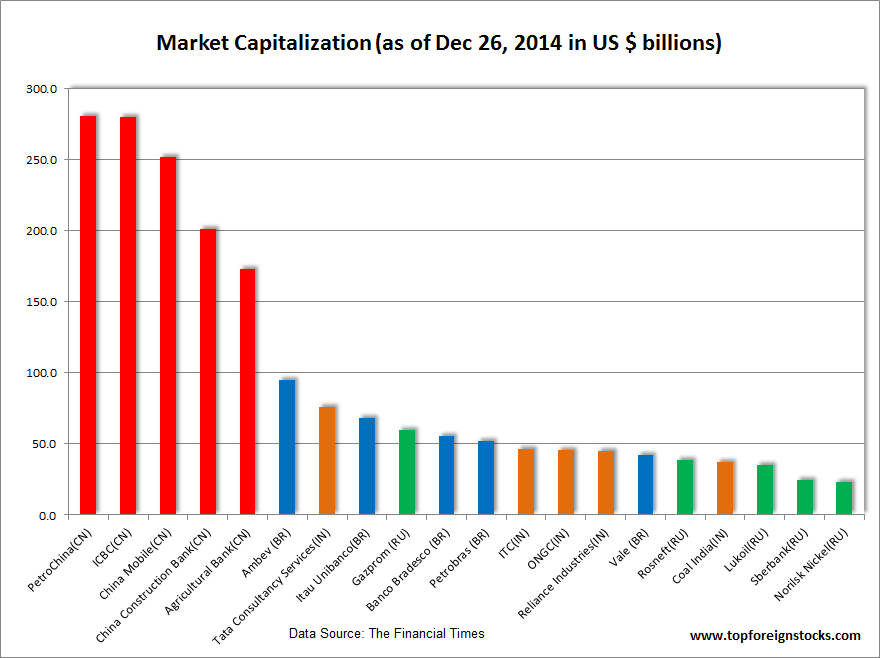 Note: The combined markets of Shanghai and HongKong was used to select the Chinese firms shown above.
The top five firms are from China.Each of their market caps is much higher than other firms shown in the chart. Oil giant PetroChina(PTR) has a market cap of over $280.o billion.Three of the Chinese firms from the top five are banks. This shows the importance and growth of banking industry in China.
Compared to PetroChina, Russia's Gazprom, Lukoil(LUKOY) and Rosneft have much smaller market caps. Gazprom(OGZPY) has a market cap of just $60.0 billion.As Russia is a resource-based economy, four of the five firms are in the oil and gas and mining industries.Another important point to consider is that Russian stocks always trade at a discount compared to other markets. In addition, the collapse of the ruble and the crash in crude oil prices have further damaged Russian companies.
Petrobras of Brazil had a market cap of about $400.0 billion in 2011. Now its market cap has plunged to just $52.0 billion. Corruption and political interference in the operations of this state-owned firm has crushed Petrobras(PBR) in the past few years with their shareholders suffering the most. Similar to China, the presence of two of the largest private-sector banks – Itau(ITUB) and Bradesco(BBD) – shows the importance of banks to the Brazilian economy.
Tata Consultancy Services tops all other Indian firms in terms of market cap. Valued at $76.0 billion the IT services provider highly benefits from the boom in offshoring of IT work by US, European and other companies.
Disclosure: Long BBD, ITUB, PBR