The U.S. market has performed well this year with the S&P 500 up 11.8% as of yesterday. On the other hand, many of the other developed markets including Australia.are lower than the U.S. market.Australia's SP/ASX 200 benchmark index is basically flat at -0.30% year-to-date.
The following chart shows the long-term performance of ASX 200 against S&P 500:
Click to enlarge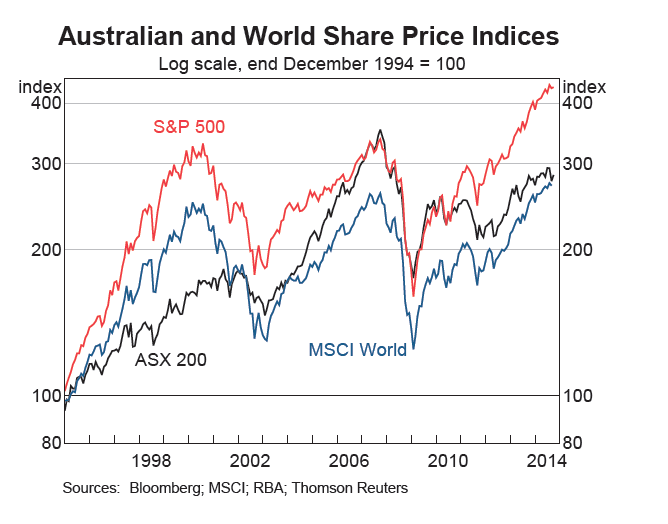 Generally dividend yields of Australian stocks are higher than the US stocks and even European stocks.The chart below shows huge difference between the dividend yields of MSCI Australia and MSCI World Excluding Australia: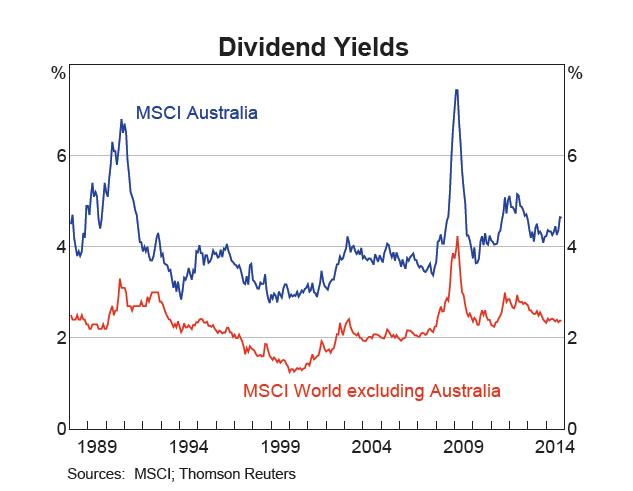 Source:  The Australian Economy and Financial Markets, Chart Pack November 2014, Reserve Bank of Australia
Though Australia is a resource-based economy, due to the decline in commodity prices and the continued lower demand from China it is better to stick with non-resource based companies when investing in the Australian equity market.
Five Australian stocks are listed below with their tickers and the current dividend yield for consideration:
1.Company: Westpac Banking Corp (WBK)
Current Dividend Yield: 5.90%
Sector: Banking
2.Company: Australia and New Zealand Banking Group Ltd (ANZBY)
Current Dividend Yield: 5.81%
Sector:Banking
3.Company: National Australia Bank Ltd (NABZY)
Current Dividend Yield: 6.40%
Sector:Banking
4.Company:Commonwealth Bank of Australia (CMWAY)
Current Dividend Yield: 5.18%
Sector: Banking
5.Company: Telstra Corp Ltd (TLSYY)
Current Dividend Yield: 5.44%
Sector:Telecom
Note: Dividend yields noted above are as of Nov 25, 2014. Data is known to be accurate from sources used.Please use your own due diligence before making any investment decisions.
Disclosure: Long NABZY