The U.S. equity market is one of the largest and most liquid markets in the world. An investor looking to invest in US stocks is faced with a huge universe of companies trading on many markets with the main exchanges being the NYSE and NASDAQ.  The NYSE is home to 1,519 U.S. companies according to the latest NYSE data and another couple of thousand trade on the NASDAQ.
One way for investors to hunt for dividend stocks is to use the S&P 500 Index which is considered as the barometer of the U.S. economy. The index provides 500 companies from many sectors to choose from. Some sectors are traditionally preferred for dividends over others. For example, income investors go with utility stocks then technology stocks for the obvious reason that utility sector is stable and is known to offer steady dividends and slow growth. On the other hand most companies in the technology sector do not even pay dividends as they focus on growth.
The current yield on the S&P 500 is 2.07%. Investors searching for dividend stocks can consider stocks in the telecom, utility and consumer staples sector.The two charts below from a FactSet research report published last month show that they have higher dividend yields than the S&P 500. The telecom sector has a dividend yield of over 4.0%. The three sectors also have higher payout ratios than that of the S&P 500.
From the report:
Dividend yield is calculated by dividing the trailing twelve-month dividends per share figure by yesterday's closing price. Ten-year average figures compute the average based on the dividend yield at the quarter-end.
a) Dividend Yield by Sector – Most Recent Quarter
Click to enlarge
b) Dividend Payout Ratio (Earnings based) – Trailing Twelve Months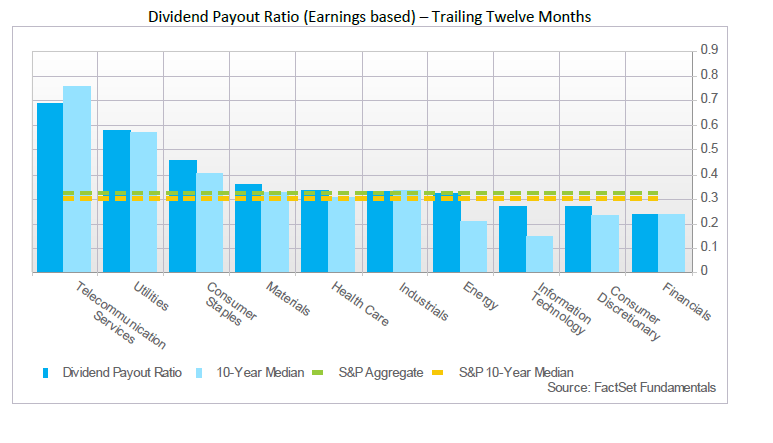 The Top Ten Companies identified in the FactSet report are listed below with their current dividend yields:
1.Company:Transocean Ltd. (RIG)
Current Dividend Yield: 10.42%
Sector:Energy
2.Company:AT&T Inc. (T)
Current Dividend Yield: 5.40%
Sector: Telecom Services
3.Company:TECO Energy, Inc. (TE)
Current Dividend Yield: 4.81%
Sector:Utilities
4.Company:Noble Corporation PLC (NE)
Current Dividend Yield: 7.69%
Sector: Energy
5.Company: Southern Company (SO)
Current Dividend Yield: 4.54%
Sector:Utilities
6.Company:Reynolds American Inc. (RAI)
Current Dividend Yield: 4.50%
Sector:Consumer Staples
7.Company: Philip Morris (PM)
Current Dividend Yield: 4.65%
Sector:Consumer Staples
8.Company:Altria Group, Inc.(MO)
Current Dividend Yield: 4.56%
Sector:Consumer Staples
9.Company: Consolidated Edison, Inc. (ED)
Current Dividend Yield: 4.15%
Sector: Utilities
10.Company: Entergy Corporation (ETR)
Current Dividend Yield: 4.19%
Sector:Utilities
Note: Dividend yields noted above are as of Oct 17, 2014. Data is known to be accurate from sources used.Please use your own due diligence before making any investment decisions.
Disclosure: No Positions
Source: Dividend Quarterly, September 15, 2014, FactSet