The global paint industry is a multi-billion dollar industry. One cannot imagine a world without paints. They are an integral part of modern world. In fact, paints help us color our world. Paint companies produce a variety of products in addition to just paints. These products are used in many industries.For example, AkzoNobel, the world's top paint maker operates its business units in the following categories:
Automotive and Aerospace Coatings
Industrial Coatings (e.g. coil, wood and packaging)
Marine and Protective Coatings
Powder Coatings
Its products can be found in many of the consumer goods as shown in the diagram below:
Click to enlarge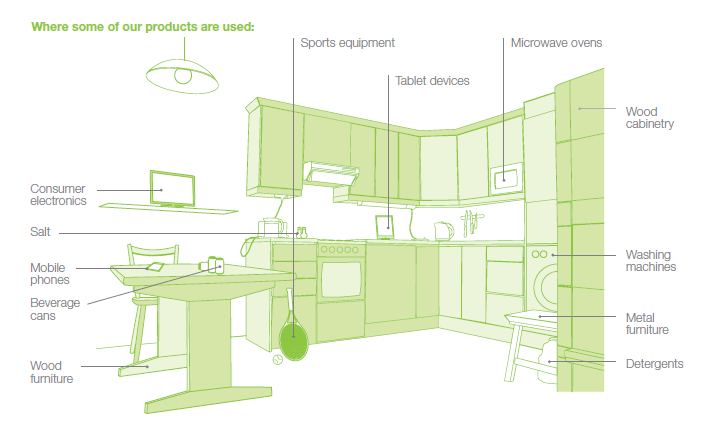 Source: AkzoNobel
From a long-term investment perspective, paint companies are attractive simply due to a fact that paints and related-products are used pretty much in most industries. A recovering housing market for instance benefits paint makers. Similarly the building of infrastructure in emerging markets in growing markets such as China helps them as well. A few years ago I made a decent profit when British paint company Imperial Chemical Industries (ICI) was acquired by AkzoNobel.
A ranking of the top manufacturers of paints, coatings, adhesives, and sealants based on annual sales in 2013 was published by Coatings World magazine in July. The ranking included both public and private firms.
The following are the top 10 companies from that list:
1. AkzoNobel (The Netherlands) $13.300 billion
2. PPG (USA) $12.78 billion
3. Henkel (Germany) $11.174 billion
4. Sherwin-Williams (USA) $9.340 billion•
5. Axalta (USA) $4.300 billion
6. RPM (USA) $4.100 billion
6. Valspar (USA) $4.100 billion
8. BASF (Germany) $3.95 billion
9. Kansai (Japan $3.126 billion
10. Sika (Switzerland) $$3.118 billion
Note: Sales figures noted are annual sales in US dollars.
Source: Top Companies Report 2014, Coatings World, July 14, 2014
The Netherlands-based AkzoNobel trades on the OTC market under the ticker AKZOY. Currently it has a market capitalization of about $15.0 billion. Pittsburg-based PPG Industries Inc (PPG), the second largest company has a market cap of over $24.0 billion followed by Germany's Henkel (HENKY). Other companies from the above list that trade on the US markets are The Sherwin-Williams Company (SHW), The Valspar Corporation (VAL), RPM International Inc. (RPM) and BASF AG (BASFY).
Disclosure: Long AKZOY, HENKY