Many companies across the world have been increasing their dividend payouts to shareholders in the past few years. Global dividend payouts reached  a record $1.04 Trillion in 2013, a growth of 43% from 2009 according to research by Henderson Global Investors.
The following chart shows the global dividend payout by region:
Click to enlarge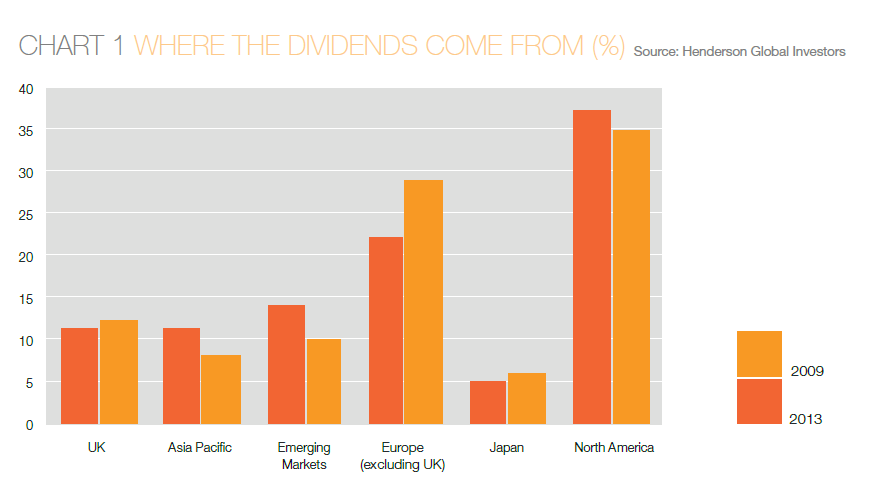 Source: Henderson Global Investors via Income Investor, March 2014, CityWire UK
Some observations on the above chart:
North American companies account for the largest share of global dividends due to the sheer size and scale of the market. If US firms cut down the amount of their share buybacks and instead raise their dividends then North America's share of global dividends would rise even higher.**

While North American firms' dividend payouts in 2013 surpassed the payouts in 2009, European firms' payouts lagged. 

British companies accounted for 11% of global dividends with Vodafone(VOD), Royal Dutch Shell plc (RDS-A) and HSBC Group (HBC)among the top payers. 

Dividend payouts by companies in emerging markets has doubled between 2009 and 2011 before flattening recently according to Henderson data.

Half of the emerging market dividends come from the BRIC countries.
Some of the Top Global Dividend Stocks in 2013 are shown in the chart below:
Click to enlarge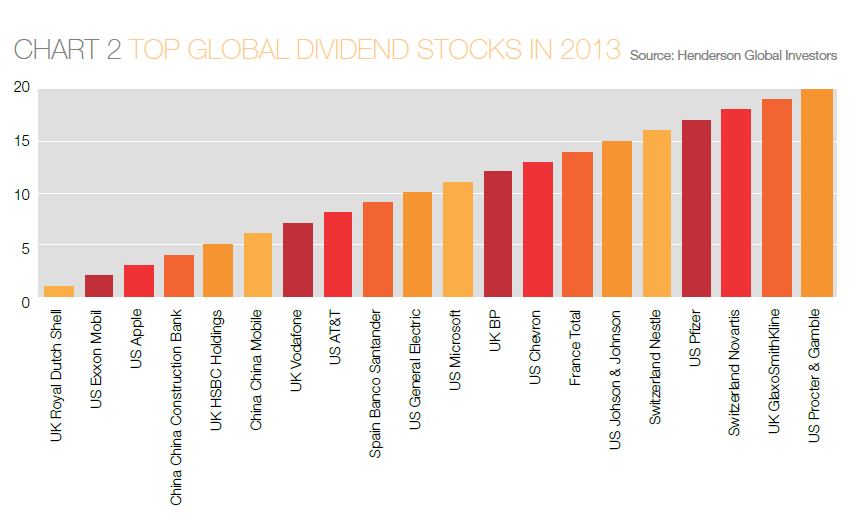 This list is dominated  by oil, consumer goods, pharma companies and a few banks. Investors looking to add global dividend stocks to their portfolios can use the above list as a good starting point.
Update:
In 2013, U.S. companies in the Russell 3000 index bought back $567.6  billion of their own shares – a 21% percent over in 2012 according to Birinyi Associates quoted by Jason Zweig of The Wall Street Journal.
Since 2005, the total share buybacks of U.S. firms have amounted to $4.21  Trillion (or ) about one-fifth of the total value of U.S. stocks today.
Source: Stock Buybacks: Will they bite back?, The Wall Street Journal, Mar 22, 2014
Disclosure: Long Banco Santander