The benchmark stock market index of Germany is the DAX Index. The index is comprised of 30 blue-chip German companies trading on the Frankfurt Stock Exchange. The index was created in 1988.
Any investor looking to invest in European companies have to firs consider the German market since the country is the economic powerhouse of Europe and is the largest economy in Europe. Accordingly the long-term returns of German stocks is excellent. The following chart shows the 25-year performance of the index (in green) through May 2013:
Click to enlarge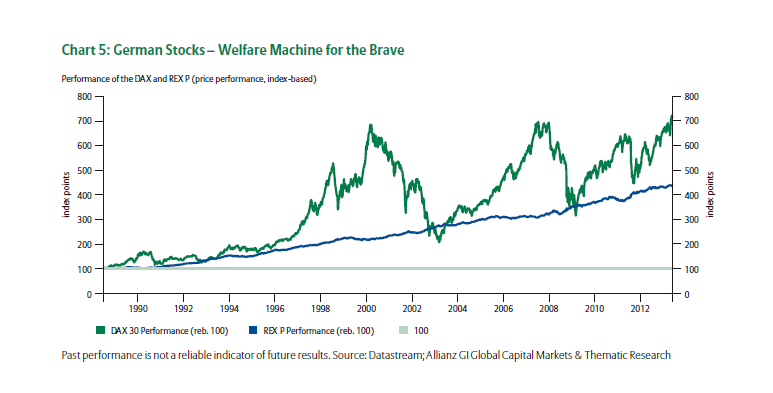 Source: 25 Years of the DAX: Wealth for Everyone, Allianz Global Investors
An investment in the DAX index at the time it was created and held thru 2013 would have earned spectacular returns .From the Allianz Global Investors report:
In hindsight, there is no doubting that the DAX has created wealth. It has increased more than eightfold in its nearly 25 years of existence. Put another way: Someone who put 1,000 (or close to 2,000 DM) euros into the DAX back then would have around 8,500 euros at the end of May 2013. It has been, despite all the highs and lows, a good investment. It's interesting to note: 46 % of DAX performance came from dividend distributions. In fact, dividends provide for an overall calmer path for performance, but this is hardly noticed in the custody account, since dividends flow out of the account while share prices fluctuate.
It is interesting that nearly half (or 46%) of the total returns came from dividends. This is not surprising since French and German firms are some of the biggest dividend payers on the continent.
Related ETF:
iShares MSCI Germany (

EWG

)
Disclosure: No Positions