U.S. stocks had a great run in 2013 with the S&P 500 index returning 30%. Most of the S&P sectoral indices including the financials performed very well. After such strong gains, the general consensus among professional money managers now is that equity returns will be good but not great this year. Any investors would agree that the probability of S&P 500 soaring again by 30% or so is highly unlikely. Since undervalued opportunities exist abroad, investors holding gains in U.S. stocks may want to consider booking profits and switching into equities of other developed markets such as those in Canada and Europe.
Canadian stocks had a lackluster performance last year and are relatively attractive at current levels. For example, many Canadian firms are bound to benefit from the U.S. recovery and their stocks have more room to run. Macro economic factors such as housing, trade, investments, exports, etc. are also showing signs of improvement. In addition, CIBC's Peter Buchanan discussed two factors in a recent research report that are favorable to Canadian stocks.
More TSX firms are raising  dividend payments nowadays. About 18% of all dividend announcements in Q4 showed firms increased their payouts with banking, consumer durables/apparel and retailers leading the way.The second factor is that foreigners are pouring money into Canadian stocks since the Canadian equity market is a better play on the global economy than the domestic economy. So these investors are betting to ride the global economic recovery via Canadian stocks.
Click to enlarge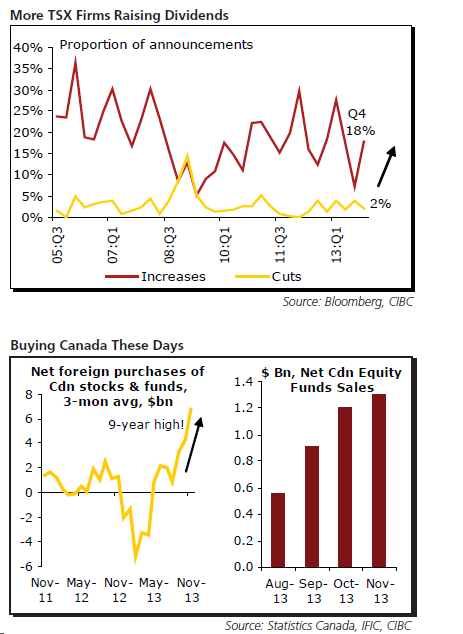 Source: THE WEEK AHEAD, January 20-24, 2014, CIBC World Markets
According to Michele Patri of AllianceBernstein, European stocks "offer compelling long-term return potential" now. Though there are short-term uncertainties and real risks in the horizon he notes that European stocks are trading at a significant discount to global stocks as shown in the chart below:
Click to enlarge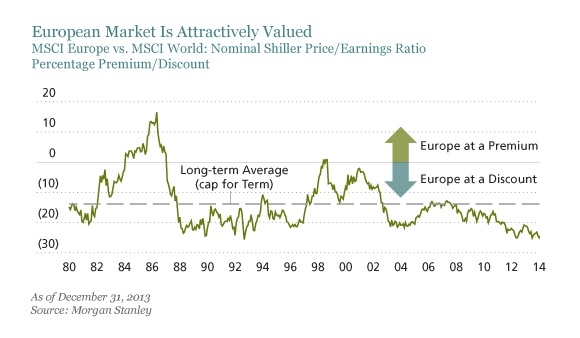 Source: European Equities: In the Market with an Airbag, AllianceBernstein
Ten stocks from Canada and Europe are listed below with their current dividend yields for consideration. I have included five of the major Canadian banks since I believe they offer excellent growth potential for both dividends and price over the long-term.
1.Company: Bank of Nova Scotia (BNS)
Current Dividend Yield: 3.89%
Sector: Banking
Country: Canada
2.Company: Bank of Montreal (BMO)
Current Dividend Yield: 4.19%
Sector: Banking
Country: Canada
3.Company: Canadian Imperial Bank of Commerce (CM)
Current Dividend Yield: 4.33%
Sector: Banking
Country: Canada
4.Company: Royal Bank of Canada (RY)
Current Dividend Yield: 3.73%
Sector: Banking
Country: Canada
5.Company: Toronto-Dominion Bank (TD)
Current Dividend Yield: 3.51%
Sector: Banking
Country: Canada
6.Company: Nestle SA (NSRGY)
Current Dividend Yield: 2.91%
Sector: Food Products
Country: Switzerland
7.Company: Henkel AG & Co KGaA (HENKY)
Current Dividend Yield: 1.19%
Sector: Household Products
Country: Germany
Henkel has raised future dividend payout ratio to be between 25 and 35% from the current 25%. For the fiscal year 2013, a dividend payout ratio of around 30% will be proposed to shareholders at the company's Annual General Meeting on April 4, 2014.
8.Company: Edp Energias De Portugal SA (EDPFY)
Current Dividend Yield: 4.00%
Sector: Electric Utilities
Country: Portugal
9.Company: Nordea Bank AB (NRBAY)
Current Dividend Yield: 3.14%
Sector: Banking
Country: Sweden
10.Company:Telenor ASA (TELNY)
Current Dividend Yield: 4.35%
Sector: Telecom
Country: Norway
Note: Dividend yields noted above are as of Jan 21, 2014. Data is known to be accurate from sources used.Please use your own due diligence before making any investment decisions.
Disclosure: Long BNS,BMO,CM,RY,TD and HENKY