Potash is one of the type of fertilizers used to grow various types of crops, fruits and vegetables. According to an article in IMF's Finance & Development magazine the demand for this natural resource may increase with rising population and less arable land. From the article:
Potash is the common name for naturally occurring water-soluble potassium salts, the most common of which is potassium chloride.

Potash is used in many countries as a fertilizer to grow rice, wheat, sugar, corn, soybeans, and various fruits and vegetables. In India, for example, 70 percent of soils have low to medium potassium content, and potash must be added so crops will produce enough food to feed the growing population.

With the world's population expected to reach 9.5 billion by 2050, arable land per person will decrease, and more crops will need to be grown on less land—and, at the same time, feed more people.
The Top Producers of Potash are shown in the chart below:
Click to enlarge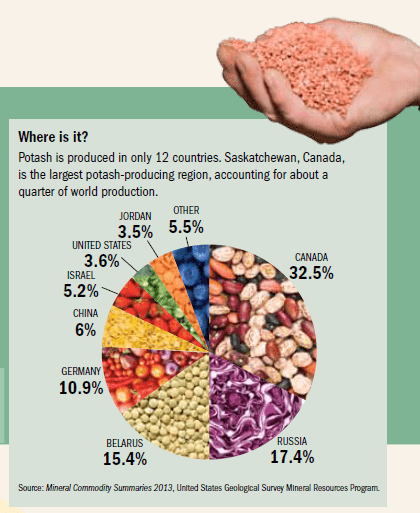 Source: Finance & Development, September 2013,IMF
One way to profit from the increase in demand for Potash is to invest in Potash producers. Potash stocks are especially attractive now for long-term investment after the industry was shaken dramatically earlier this year due to OAO Uralkali, the Russian producer broke up the cartel-type arrangement with Belorussian company Belaruskali that kept prices stable and planned to increase production to the maximum which will lead to price declines.  As a result of the Uralkali announcement potash stocks plunged.
Some of the Potash stocks that investors may want to consider are Agrium Inc. (AGU), Potash Corp. of Saskatchewan(POT), Intrepid Potash, Inc. (IPI) , The Mosaic Company (MOS) and Chemical & Mining Co. of Chile Inc. (SQM).
Disclosure: No Positions