Japan-based Bridgestone Corp is the world's largest tire maker in terms of sales revenues from tires only. The company's annual tire sales revenue exceeds $28.6 billion.
Bridgestone's stock trades as an unsponsored ADS on the OTC market under the ticker BRDCY. Today the stock closed at $71.60.
Until today, one ADS represented two ordinary shares. Due to a 300% stock distribution (4 for 1), the ratio changes to two ADS represented one ordinary shares. The ADR record date is Oct 15, 2013 and the Payable date is Oct 16, 2013.
From a corporate action notice issued the depository Deutsche Bank:
As a result of the ratio change, ADS holders of Bridgestone Corp will receive three (3) additional ADSs for every existing ADS held as of the ADR record date.
Here is the 5-year performance of Bridgestone ADS:
Click to enlarge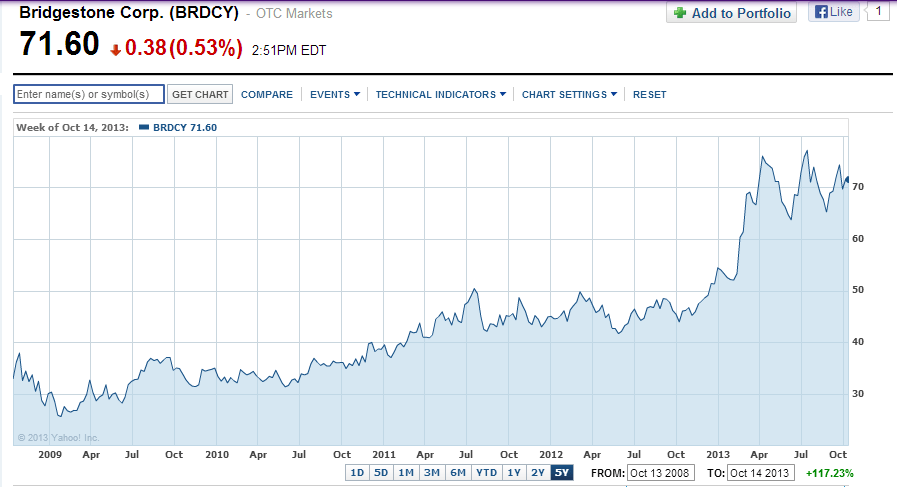 Source: Yahoo Finance
The company will announce the 3Q, 2013 earnings on Nov 7, 2013.
Some of the competitors of Bridgestone are Cooper Tire & Rubber Co. (CTB), Continental AG (CTTAY) and The Goodyear Tire & Rubber Company (GT).
Disclosure: No Positions