One of the questions perennial confronting investors looking to invest in gold is whether to invest in physical gold or gold miners who actually produce the gold.
Generally investing is physical gold is better idea than buying gold stocks. Since buying and holding physical gold nowadays involves many problems such as the possibility of theft from one's home, most investors choose an ETF that is backed up actual gold held in secure locations. The SPDR Gold Shares ETF (GLD) is one such ETF that is most preferred by investors. It is not a wise strategy to invest in gold mining stocks. This is due to many reasons including high volatility, low or no dividend payments, consistency in earnings, etc. Gold mining involves not just production but also exploration for discovery of new sources of the yellow metal. Exploration by definition involves high risk and many companies have collapsed in the past such as the infamous Bre-X of Canada. Mark Twain's famous comment "A mine is a hole in the ground with a liar standing next to it" cannot be ignored before investing in gold miners. When gold prices rose year-after-year in the past few years before the recent downtrend, gold stocks did not keep up and in fact lagged the growth in gold prices. The following chart shows the difference in the long-term returns of the SPDR Gold Shares ETF (GLD) and Market Vectors Gold Miners ETF (GDX) which can be considered as proxy for gold mining stocks:
Click to enlarge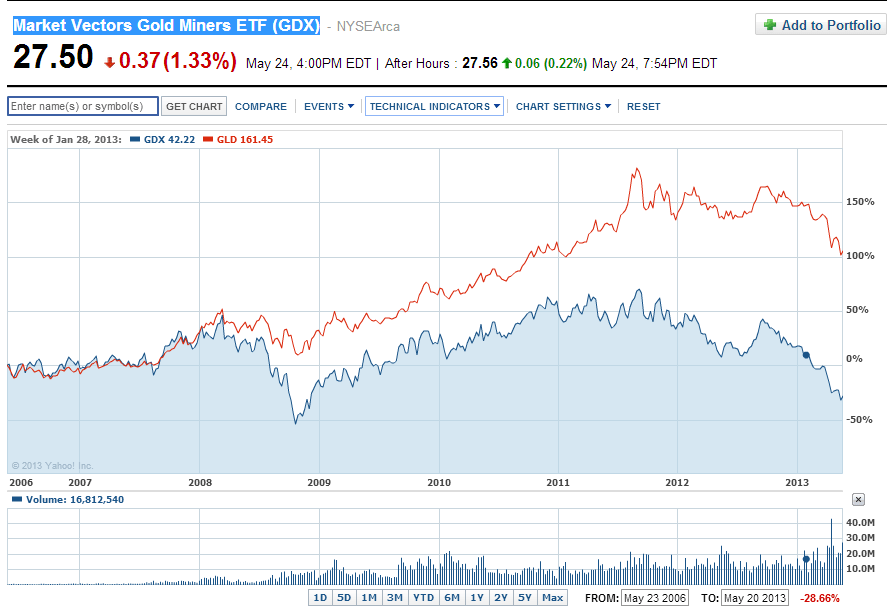 Source: Yahoo Finance
Here is another proof showing the performance of South African gold miners and gold price. South Africa is one of the largest producers of gold in the world. Hence the return of South African mining stocks against gold prices is highly relevant to investors.
Click to enlarge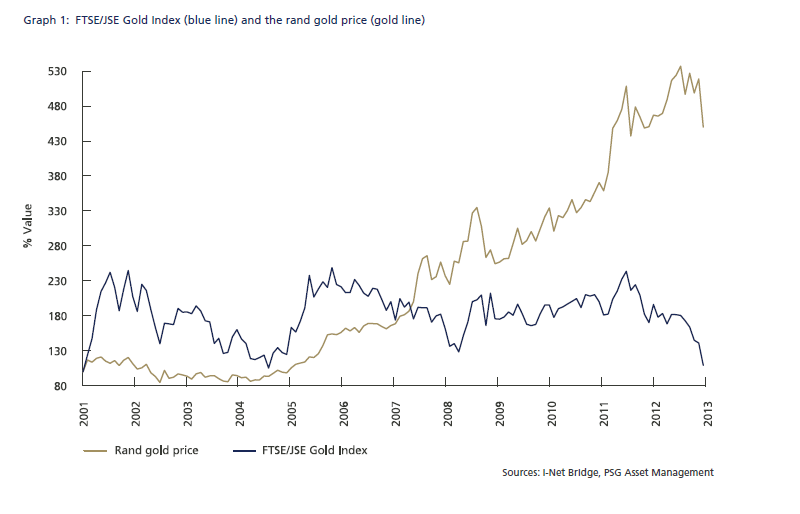 Source: Angles and Perspectives, Q2, 2013,  the Quarterly Newsletter of PSG Asset Management
The blue line shows the performance of FTSE/JSE Gold Index which tracks the gold mining companies listed on the South African market.
From the report in the PSG Asset Management newsletter:
In mid-April the gold price fell 15% in three days.

At $1,322 the gold price was 31% below its high of $1,921 reached in September 2011. Some market commentators therefore believe gold now finds itself in a bear market.

The decline in the gold price resulted in a precipitous decline in the share prices of South African-listed gold stocks. At the time of writing, the FTSE/JSE Gold Index has endured a 37% year-to-date decline, following a 20% decline in 2012.

Gold shares have been a very poor investment for some time and the Gold Index is at the same level it was at in 2001.

What makes this lack of return all the more shocking is that over this period of more than 11 years the gold price has increased five times in dollars and more than four and a half times in rand terms. The FTSE/JSE All Share Index has tripled
over the same period.
Disclosure: No Positions
Update – 3/29/14:
Click to enlarge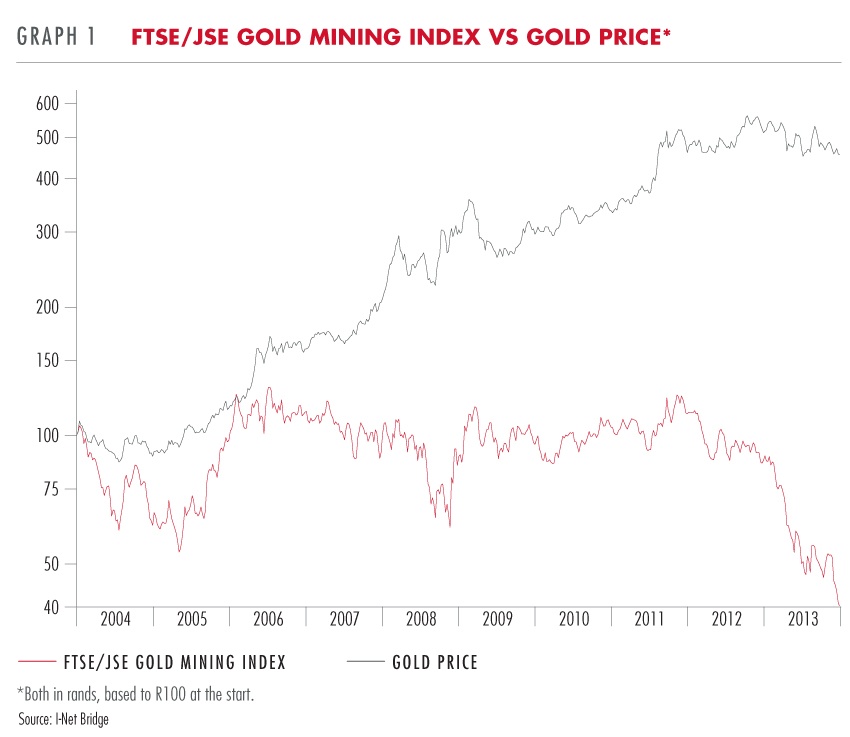 Since 2004, gold mining stocks traded on South Africa's JSE have consistently falled while gold price has for the most part gone up.
Source: Gold and platinum mines: 'Eating sardines' or 'trading sardines'?, Allan Gray