The Pharmaceutical Executive magazine published its annual ranking of the Top 50 Pharma Companies Worldwide based on sales earlier this month. New York -based Pfizer(PFE) was topped the list with a sales of over $47.4 billion in 2012.
The Top 50 Global Pharma Companies are listed in the tables below:
Click to enlarge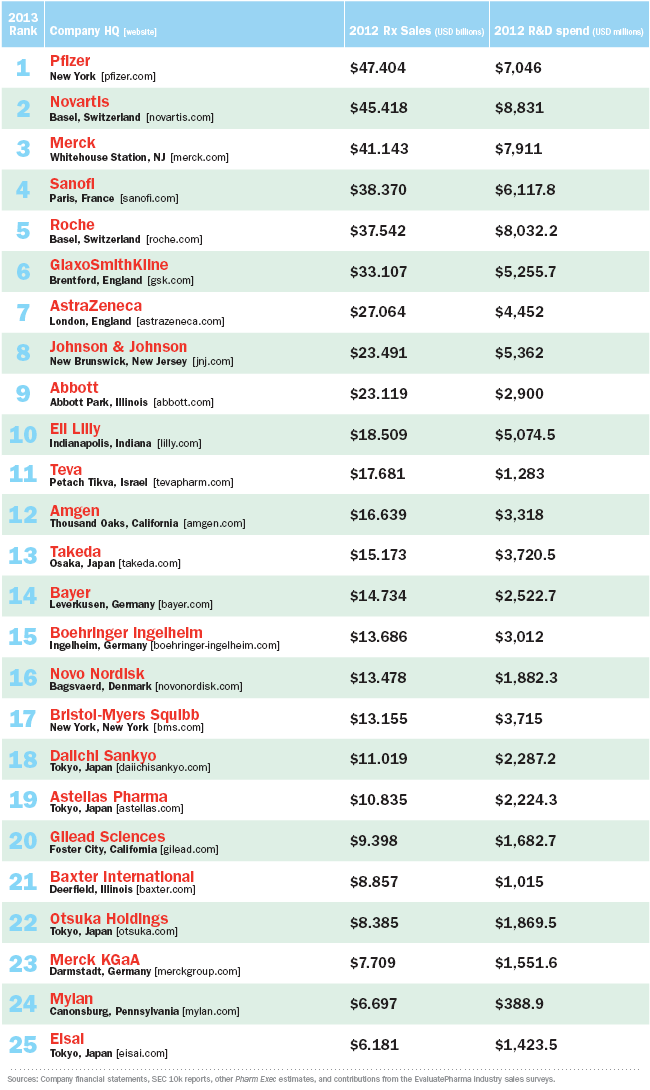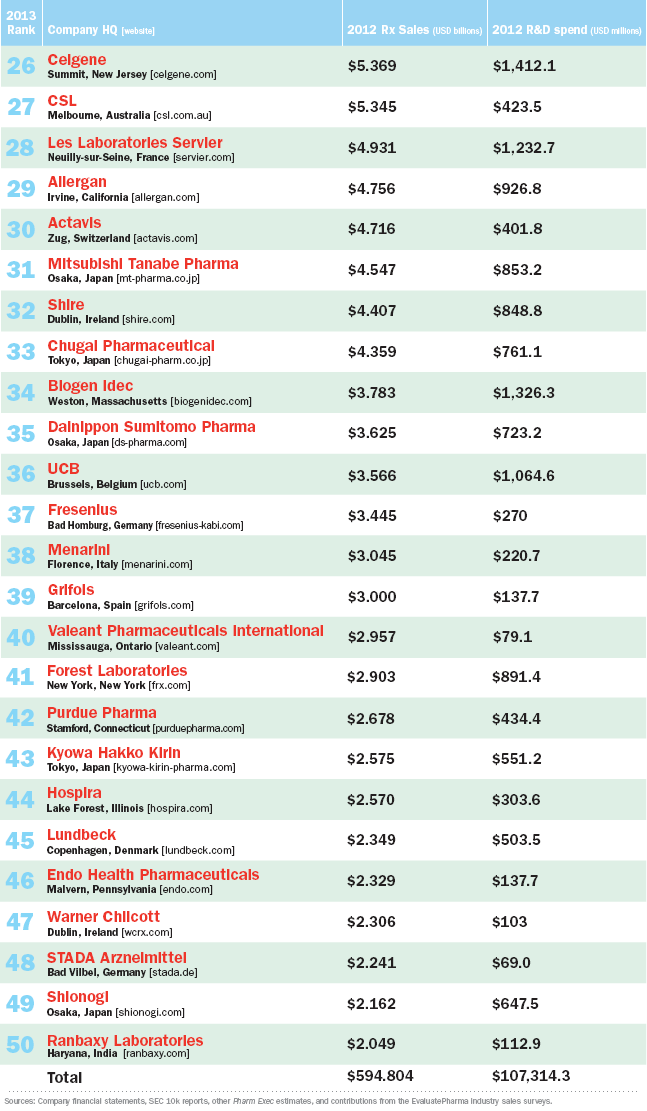 Source: Pharmaceutical Executive
Here are a few observations:
Swiss drug giant Novartis(NVS) came in at number two with sales of over $45.0 billion.
Among the top 10, five are European pharma companies including Novartis, Sanofi (SNY), Roche (RHHBY), GlaxoSmithkline(GSK), and Astrazeneca (AZN).
Teva (TEVA) of Israel, the world's largest generic maker had revenues of sales of over $17.0 billion and took the 11th spot. Teva's growth so far has been astonishing and is now within striking distance of taking the 10th rank from Eli Lilly(LLY).
For the first time, Indian pharma maker Ranbaxy Laboratories appears in this top 50 list. Ranbaxy is majority-owned by Daiichi Sankyo of Japan.
For the first time in more than 50 years, year-on-year growth contracted in the U.S. market due to patent expiration of blockbusters such as Plavix, Seroquel, Lipitor, and Zyprexa and increased scrutiny of pricing by payers and regulatory approvals.
Due to the ongoing recession, growth in Europe was flat.
Fresenius is a leader in the dialysis market. Its Medical Care division trades on the NYSE under the ticker FMS.
Disclosure: No Positions
Also checkout: The Top 50 Global Pharma Companies 2014
Update:
Download: The Top 50 Global Pharma Companies 2012 (in pdf)