Japanese stocks have had an incredible run so far this year. The benchmark Nikkei 225 index is up 32.7% as May 1st. Compared to this, only a few of the developed indices are up by double digit percentages. The year-to-date (YTD) performance of major developed indices as of May 1st are listed below:
DAX: 4.0%

FTSE 100: 9.4%

CAC-40:  5.9%

S&P 500: 11.0%

Dow Jones Industrial Average: 12.2%

IBEX 35: 3.1%

Swiss Market: 15.9%
Note: Except the U.S. and UK markets, the rest of the markets were closed on May 1st for Labor Day holiday.
I wrote an article about investing in Japanese stocks back in January. Since that time the Nikkei has surged to outperform the U.S. indices.
The chart below shows the 2-year performance of  Nikkei against the S&P 500 and Dow Jones indices:
Click to enlarge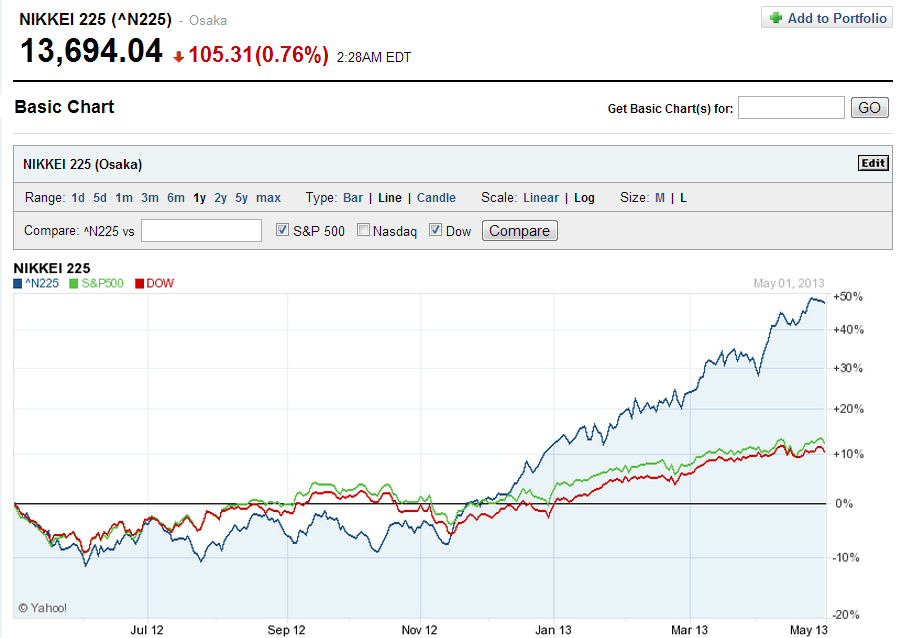 Source: Yahoo Finance
A significant portion of the gains in the Japanese equity markets can be attributed to foreign investors. After the asset bubble burst in the early 90s,  domestic investors avoid stocks have continued to avoid stocks and the country has one of the lowest stock market participation among developed countries.  Due to the steep rise of Japanese stock prices this year, investors may want to tread cautiously before initiating any new positions. In the past two decades Nikkei rallied many times only to lose all the gains.
The best way to gain exposure to Japan is via ETFs. The iShares MSCI Japan ETF (EWJ) is the country-specific ETF for Japan. It has an asset base of over $10.0 billion and  total holdings of 313 companies. The other two Japan-focused iShares ETFs are iShares Japan Large-Cap ETF (ITF) and iShares MSCI Japan Small-Cap ETF (SCJ).
Update:
From Mrs. Watanabe Strikes Out, The Wall Street Journal (May 3, 2013):
Japanese stocks have been on a tear; the Nikkei index rose about 50% between November and mid-April. That is thanks to the pledge by newly elected Prime Minister Shinzo Abe to reform the country's economy and more importantly the central bank's plan to stoke 2% inflation.

But it isn't clear Japanese investors are confident the good times will last. While foreign investors bought a net $77 billion of stock during that period, Japanese individuals and institutions sold a net $74 billion, according to the Oriental Economist. (emphasis added)
Disclosure: No positions