The dividend yield of the U.S., Canadian and Australian equity markets as of March 18, 2013 was 2.1%, 3.0% and 4.2% respectively according data provided by The Financial Times.Generally U.S. equities tend to have lower dividend yields than foreign equities.
Recently I came across an article by Jonathan Jacob in Canadian Investment Review in which he discussed about how Canada outperformed the US. on dividend stocks. So I wanted to check the performance of U.S. dividend stocks against Canadian and Australian dividend stocks over different periods. In order to do this comparison, I used the MSCI High Dividend Yield indices.This index is composed of high dividend yielding stocks within an MSCI country index.
Click to enlarge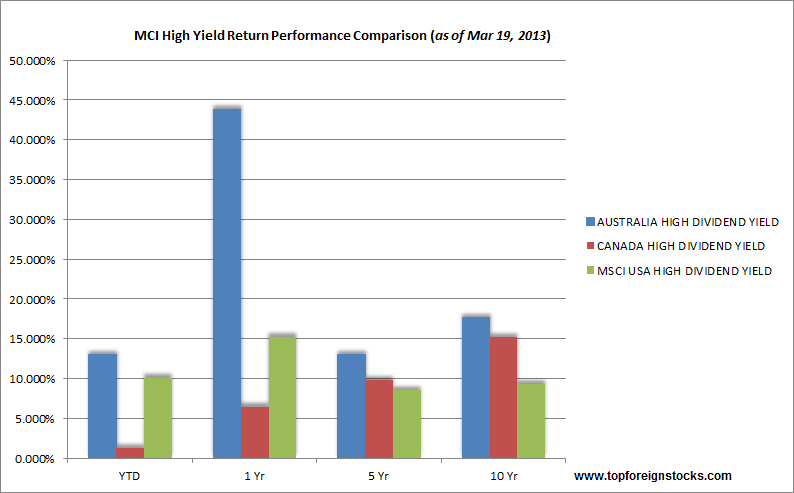 Data Source: MSCI
Note: The returns shown in the chart above are total returns and based on US dollars.
Australian income stocks beat U.S. stocks in all the periods shown above. In the past 10 years, the U.S. stocks returned 9.4% but Australian stocks outperformed this by a wide margin with a return of  17.7%. In the 5-year period also the difference in returns is significant. Though Canadian dividend stocks have lagged over the past one year, in the five and ten year periods they have yielded higher returns than U.S. dividend stocks. Please note that the returns mentioned here do not take into consideration withholding taxes on dividends paid by Australian and Canadian companies in the respective MSCI indices.
One key takeaway from this post is that U.S. investors can earn higher total returns especially in the long-term by investing in Canadian and Australian dividend stocks.
Related ETFs:
SPDR S&P 500 ETF (SPY)
iShares MSCI Canada Index Fund (EWC)
iShares MSCI Australia Index Fund (EWA)
Disclosure: No Positions