The SET index of Thailand equity market reached a 19-year high this week according to an article in The Wall Street Journal.  The Thai bhat also reached its highest level in 5 years. It is interesting that Thailand's economy is doing so well considering that the country seems to have a shaky political system with the famous "Red-Shirt" political protests that occurred in 2010.
From the Journal article:
Click to enlarge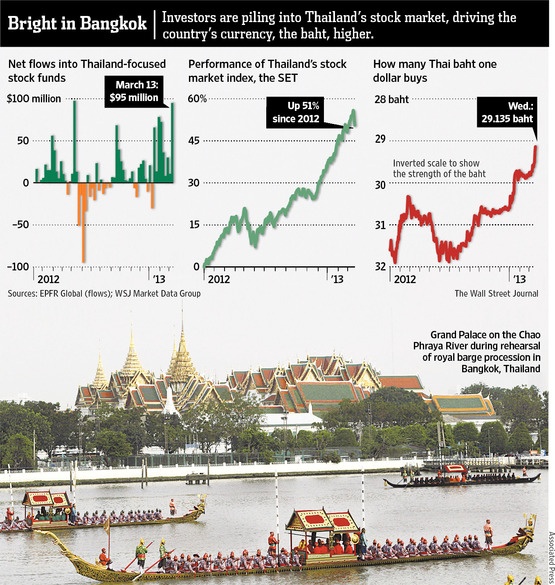 Moreover, there is broad appeal in Thai assets as the economy strengthens and the government sticks to investor-friendly policies. The economy expanded 6.4% last year, as activity bounced back from damaging floods in 2011, and analysts say growth will likely remain healthy this year, buoyed by a corporate tax-rate cut and government support for first-time car buyers.

Fitch Ratings this month raised the nation's credit rating a notch to triple-B-plus, while the central bank signaled this week that there is no need for concern over the baht's recent rise, giving investors the green light to keep buying.

"The medium-term fundamentals remain positive with strong foreign direct investment flows," said Guan Yi Low, investment director for fixed income with Eastspring Investments, which manages around $94.4 billion in assets across Asia. "We believe the pace of [baht] appreciation is likely to continue."
Source: Thailand's Broad Appeal Bolsters Its Currency,  The Wall Street Journal, Mar 21, 2013
Some interesting economic facts of Thailand:
Population: 67.0 million

Economy Type: Free-market Economy

GDP: $646.0 billion (in 2012 based on Purchasing Power Parity)

Unemployment Rate: 0.20% in 2012 (estimate)

Budget: A deficit of 2.4% of GDP in 2012 (est)
A brief overview of the economy:
With a well-developed infrastructure, a free-enterprise economy, generally pro-investment policies, and strong export industries, Thailand achieved steady growth due largely to industrial and agriculture exports – mostly electronics, agricultural commodities and processed foods. Bangkok is trying to maintain growth by encouraging domestic consumption and public investment. Unemployment, at less than 1% of the labor force, stands as one of the lowest levels in the world, which puts upward pressure on wages in some industries. Thailand also attracts nearly 2.5 million migrant workers from neighboring countries. Bangkok is implementing a nation-wide 300 baht per day minimum wage policy and deploying new tax reforms designed to lower rates on middle-income earners.
Source: CIA's World Factbook site
None of the Thai companies are listed on the organized US stock exchanges. The best way to invest in Thailand stocks is via the iShares MSCI Thailand Investable Market Index Fund (THD).
The 5-year performance of the iShares Thailand ETF:
Click to enlarge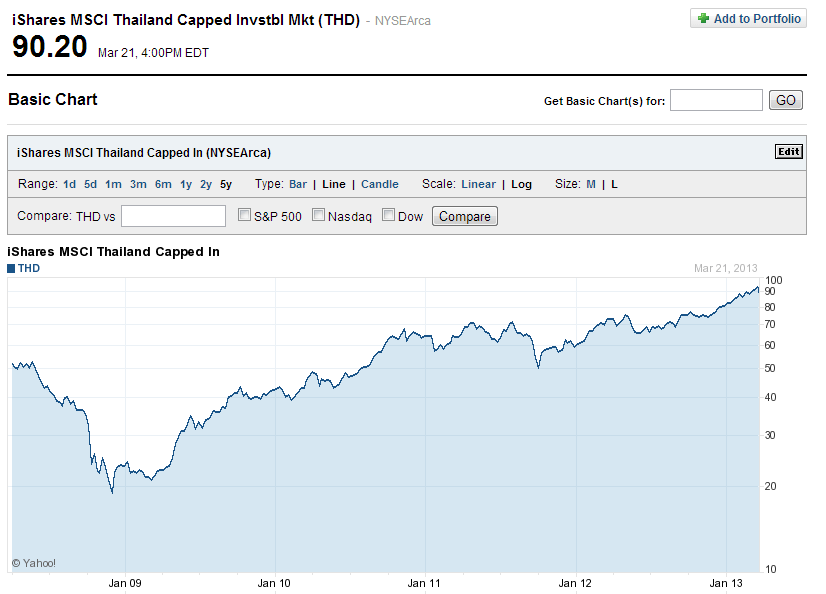 Source: Yahoo Finance
The fund has just over $1.0 billion in assets and the number of holdings is 92. This ETF is highly concentrated with Financials accounting for 40% of the portfolio and the top 10 holdings amounting to about 50% of the fund.
Disclosure: No Positions
Update(Nov 28, 2015):
Long-term return chart of Thailand SET Index:
Click to enlarge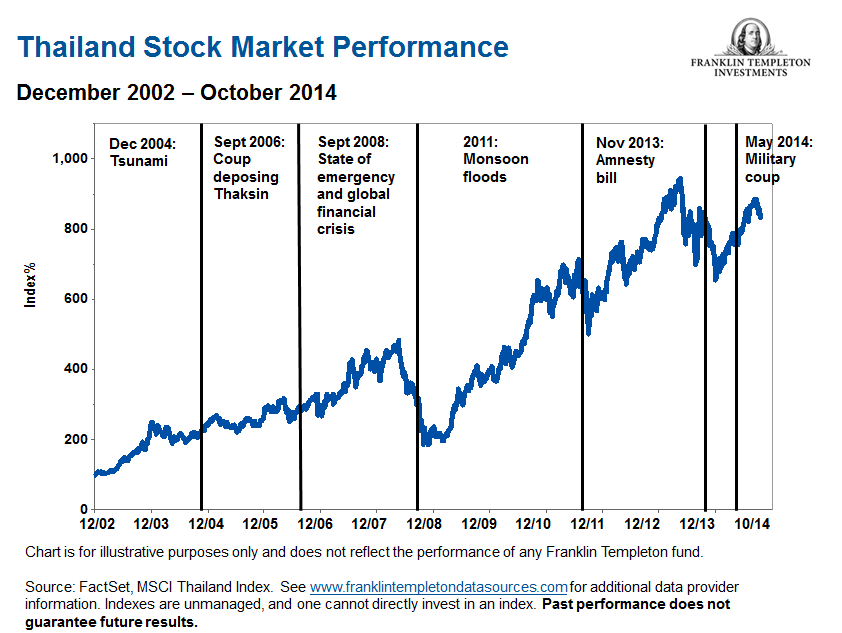 Source: Franklin Templeton