Mid-cap stocks have outperformed small and large-caps since 2008 and even from 1993. This is interesting since some think small caps would outperform the other two types. Mid-caps can defined as stocks from market capitalization of $1.0 billion or more.Some consider companies with market capitalizations of $3.0 billion or more as mid-caps. There is no one definition of this.
The following chart shows the performance of mid-caps against small and large-caps since 1993 thru 2012:
Click to enlarge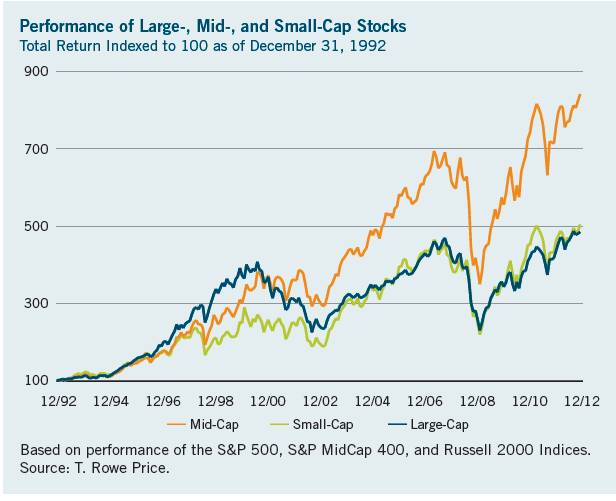 Source: T.Rowe Price Report, Issue No 118, Winter 2013 , T.Rowe Price
Clearly mid-cap companies are performing extremely well as shown by the wide gap between them and the other two types of stocks. So investors can consider adding some mid-cap exposure to their portfolios.
How to invest in mid-cap stocks?
Investing directly in individual companies in this space is tricky as there are hundreds of companies to choose from.Besides it is very easy to go wrong as one has to be depend purely on price growth than dividends for most of the total returns.This is because most mid-caps pay a small or no dividends. The best way to invest in these companies is via an ETF.
Some of the ETFs that focus on the mid-cap companies are listed below:
Disclosure: No Positions